«
Nausicaa hentai doujin [ENGLISH !] : Holy Ceremony, by Black Dog
-
Acme [English, 169 pages], by Chiba Toshirou and Celluloid Acme
»
20 June 2008, by Oliver AKA The Admin
THIS is the page I will use to update the list of all the works by Takuma Harazaki that I share on HentaiRules.
Takuma Harazaki always draws young, thin teens, with a candid face – candid until they start fucking, of course. Because they'll fuck, they're always ready for sex, almost begging for it, they'll never be forced. Oral, vaginal, anal, toys, each girl has her preferences. The boys are less specific, as thin as the girls, and spraying a massive ejaculation in the end.
Takuma Harazaki is part of the CHEAP CHEAP circle. (Also written as コネコダマシ and/or CHEAPDROP.)
Here are the covers of the works listed below, next are the links to the gallery and download pages :
---

Golden Stage Volume 1 [English, 172 pictures, Complete]
–

Golden Stage Volumes 2-5 [Japanese]
–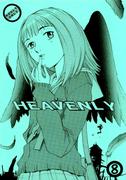 Heavenly 8 [English] (FLCL Hentai Doujinshi)
–

Shell [English, 174 pages, Complete]
Hello ! This post is getting on years, so here's a friendly mention... If all the Zip links are dead, you may try using
THE HENTAIRULES GIGATORRENT
to grab the file you want. You can just pick the stuff you need, it's quick and easy :)

Useful Information :
To find more works about a subject ("Dragon Ball" for instance), use
the search field
in the upper-right corner of the page. When I share enough works by a good artist I create
redirection pages
with links to all his shared works.

A problem to play videos, or questions like "how to download the zips" or "why does it ask a password, you said there isn't one" ? Read the
Help & information
page :)
Most fundamental rule : if a download fails once, that can happen : try again ! ;-)
You are welcome to share the links to my uploads - I didn't draw the hentai myself anyway - but please, NOT a word-to-word carbon copy.

Help with the comments
Sign up to
Gravatar
and give here the same email to show your avatar.

You can use these allowed html tags : <b> </b> , <i> </i> , <u> </u> , <img src=> (NO trailing slash, NO double quotes) , <a href=> </a> (NO double quotes)
You liked it ? Hated it ? You've got additional information and links ? Or did you see broken links (please report them, I will reupload it) ? Bring more life here, participate, add a comment ;-)
If you report a dead link, please, tell me what is the precise dead hyperlink and the precise error. Never forget to try again !
Show your avatar in the comments »