THIS is the page I will update with the list of all the works by Gust that I share on Hentairules.
IMPORTANT NOTE : actually, and I came to understand it a bit late, there are TWO artists under the name "Gust".
– First, there is Gust-San, making all those Mahou Sensei Negima parodies, with a very straightforward style : the girls have big tits, no pubic hair, with an extremely cheerful personality, they do not need foreplay, and they have groupsex with plenty of guys. Period

In fact it's always the same body proportions and face with little variations : this is like McDonald's : it's always the same, it lacks originality, and yet we can't help but wanting more after some time
– second, there is Harukaze Soyogu, mostly specialized in Gundam doujinshi, with a much more refined style – and yet, he's less popular, I don't understand v_v
Here are the covers of the works by Gust shared on hentairules, next are the links to the gallery and download pages.
–

Cheer and Color, two Negima fullcolor hentai doujinshi [English]
–

Gust Pack : Iro 2-3-4-5 + Asuna Only [English]
–
–
–

A&U 2 + ACC [English, Full color]
–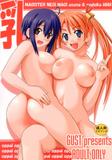 Chichi Chichi + Chichi Oppai [English]
–
–

Suzumiya Haruhi no Shakunetsu [English]
–

BIG pack of 9 works by Gust
This pack contains : Burning 1-2-3-4 (Burning 2-3 aren't translated, but I still joined them to this pack so that you don't suffer the whole between volumes 1 and 4), Sternness 1-2-3, Suzumiya Haruhi no binetsu and VS Kotaro.
–
–
–

A 665 [English, cleaned up version]
–
–

Pack of 5 works by Gust [English]
These works are A&u, Asu-Naru, and Iro volumes 6, 7 and 8
–
–
–
–
–
Hello! This post is getting on years, so here's a friendly mention... If all the links are dead, you may try using
THE HENTAIRULES GIGATORRENT
to grab the file you want. You can just pick the stuff you need, it's quick and easy