Are you fascinated with huge breasts ? If yes, the works of Circle Kuusou Zikken are right for you, they drawn anime and manga characters, having sex, their already originally important breast even more "improved" for the needs of the hentai comic.
This time, this is Kuusou Zikken Vol. 6, a Bleach & Final Fantasy 7 doujin [English version]. There are also a few Street Fighter pictures, but they are not numerous and not translated – not that we can blame Doujin-World, the translator, their work is perfect as usual !
(don't trust the thumbnails poor quality, most of the pictures are pen-realized, so you should instead see them fullsized, really it's better)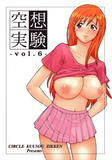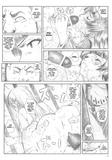 Open the Complete Pictures Gallery, or
Download the zipped version (19 MB, 70 pictures, English)
When I have time I will also share some of my Frapper Spirits doujinshi, they are very similar to the works by Kuusou Zikken, with darker, more contrasted lines and pictures, and the same kind of fascination for huge breasts. These doujinshi will be much more centered around blow jobs, but apart from that, I feel you will appreciate the similarity.
Hello! This post is getting on years, so here's a friendly mention... If all the links are dead, you may try using
THE HENTAIRULES GIGATORRENT
to grab the file you want. You can just pick the stuff you need, it's quick and easy