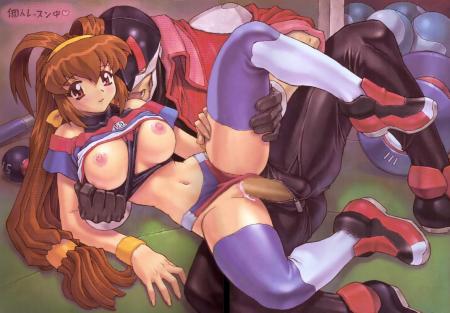 (Remember to view the updated list of all Mogudan's works on Hentairules)
Here's another pack of hentai doujinshi by Mogudan, about Evangelion, Battle Athlete's Victory, Sailor Moon, Sakura Taisen and Outlaw Star. One is in english, one is in spanish, the rest is original.
You might have already read me ranting that with every new doujin released by Mogudan, the tits of the heroines grow bigger while the drawings become uglier. Well, I picked matching examples, sharing one of Mogudan's most recent works, Ayanami Zero [English, Evangelion], where Rei can hardly walk because of her unnatural tits, and opposed to it, good "old school" hentai works by Mogudan, among his first works, with my beloved hentai teens, their lusty faces and perfect bodies, I'll let you see and make yourself an opinion

In full detail, this pack contains : Ayanami Zero [English], an Evangelion hentai doujin, Akarihous (also called Chou Undoukai) [in Spanish and Japanese versions], a Battle Athlete's Victory hentai doujin, Cho Sakura Taisen, a Sakura Taisen hentai doujin, Chou Sore Yuke Melfina San, an Outlaw Star hentai doujin, and Revenge, a Sailor Moon hentai doujin.
Open the Complete Pictures Gallery
Download the Mogudan Hentai Pack in a Zip file
(51 MB, 244 pictures, English, Japanese and Spanish)

(please, is there a chance you can use the depositfiles link ? That will generate a tiny bonus for me, thank you very much if that's possible for you !


A bonus for you, the coupon '6qdw0f5bsz8o3pmunr8t7u7fvucb1jw6' gives a 10% discount on Depositfiles 6-months and 1-years accounts.)
Or you can also use the Alternative :
Zip Mirror #1 – or – Zip Mirror #2
Hello! This post is getting on years, so here's a friendly mention... If all the links are dead, you may try using
THE HENTAIRULES GIGATORRENT
to grab the file you want. You can just pick the stuff you need, it's quick and easy