THIS is the page I will update with the list of all the works by Kimigabuchi that I share on Hentairules.
Kimigabuchi draws really twisted stories. One of them, Re-Take, is THE acknowledged major Evangelion doujin (not even in hentai terms), rewriting the story and its ending in a moving, splendid and convincing way such as the original anime never achieved (and it bonus it shows Asuka as a hot bitch). His other doujinshi are way more hardcore ("for Kimigabuchi, if it's not a double penetration, this isn't sex", as a friend summarized) and sometimes violent (especially Asumanga Drifting Classroom).
–

Re-Take 1-2-3-0-4-After [English], the best evangelion hentai rewrite ever
–

Azumanga Drifting Classroom [English], Azumanga Daioh hentai doujin
–

Code Eross 1-2-3 [English], Code Geass hentai doujin
–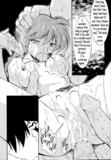 Works 3 [English], Ranma 1 1/2 hentai doujin
–

Full Metal volumes 1-2 [English]
Note : the volume 2 is available in an uncensored version in the pack below
–
BIG pack of 14 works by Studio Kimigabuchi [English, 846 pictures]
This pack contains :
– Negimaru volumes 1-5 (the volume 5 closes the Negimaru serie in a spectacular way, this is an interesting Negima spin-off)
– Uncensored version of Full Metal 2
– Ja-Ja-Ja-Japan volumes 1-2-3
– High Energy volumes 9-10
– Re-Take volume 1.5 (not as marvelously breathaking and awesome than the "real" Re-Take serie)
– Higurashi No Naku You Ni
– Re-Take Soushuuhen Zen Nenrei Ban volume 1 (reprinting Re-Take in an "All Ages" version without explicit sex but with some additional dialogues pages).
–
–

Kaguya-sama Wa Shasei Sasetai volumes 1-2 [English]
–