THIS is the page I will update with the list of all the works by Inu that I share on HentaiRules.
That's not easy to describe the style of Inu. He draws schoolgirls, anal, dildos, very horny female faces… The drawing's quality isn't gigantic in absolute terms, but these drawings have such a strong "erotic intensity" that it compensates easily the lack in quality of the drawings, IMHO. Oh, and if you're interested in knowing THE scene that made me forever a fan of Inu, here it is : a boy sees a school friend standing in the crowded train, she seems to be unwell, he comes closer to ask her what's with her, she grabs him and he discovers she has a dildo in her pussy, and she makes him fuck her in the ass while she keeps the vibrator inside her. Read that in a manga, see that in a video, and you're a fan, for-ev-er, I tell you !
Inu also goes by the name "Oouchi Takamichi" ("大内たか道") and is part of the "Hohhe!! Dan" ("ほっへ!!団") and Aerodog circles.
Here are the covers of the works by Inu shared on HentaiRules, and next (keep on scrolling down !) are the links to the gallery and download pages :
---
–
If you're searching for "Black Cat Boogaloo" or "The Captain and I", they are both now located in the "Lucky Day" tankōbon.


Hatsu Inu volume 1 [English, 155 pictures, Uncensored]
–

Hatsu Inu volume 2 [English, 156 pictures, Uncensored]
–

Hatsu Inu volume 3 [English, 170 pictures, Uncensored]
–

Lucky Day [English, 199 pictures, Uncensored]
–
Hatsu Inu was turned into an h-anime! Click below to get links to it!

Hatsu Inu Episodes 1 – 2 [Engsubs]
–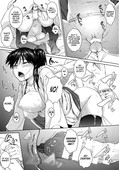 Otomegokoro To Ikkou-sen [English]
–

 Furueru Kuchiburu ("The Trembling Link") [English, 204 pictures]
–

Ryuuguujou To Kumo No Ito [English]
–
–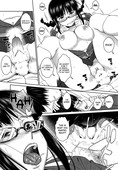 Ritsuko Play 765 School Jersey [English]
–

Hotoke No Kao O Shitteiru Ka [English]
–
–

Atama No Okashii Imouto Wa Gantai Nekomimi De Yattekuru [English]
("My Fucked-In-The-Head Younger Sister Comes In, Wearing Cat Ears And An Eyepatch")