Here is a very good hentai manga, with hardcore uncensored drawings, with all kinds of "normal" sex (no bestiality, guro or sick stuff), schoolgirls, a teacher, and a very consistent scenario!
Fair warning: we deal with very dark themes, far beyond my personal liking, so I have to force myself to remain neutral.
Innocence becoming depraved: if you dig it, here's feast for the eyes


S&M University starts like so many hentai mangas, a bad boy (he's capable of "training" a teacher to be his anal slave, congrats) and a pure innocent honest sugarbaby-with-a-great-body girl tries to make him amend his ways. You already figure they fuck like monkeys, that the teacher joins the party, that the girl's shy best friend with glasses joins too. Of course. But the ending… that ending was totally against the norm, and even if I was taken aback (OK, I wanted to puke), that was a good surprise to read something uncommon :o
By the same artist, I also share Inbaku Byoutou (212 pictures, Uncensored, and manually retouched), Otto Ga Totsuzen Seiheki Wo Kokuhaku Shite Kitan Desu Ga and Konya No Okazu Wa.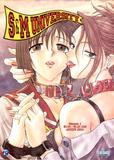 Open the Complete Pictures gallery
Download the Free Zip English Hentai Manga
(38 MB, 146 pictures, English)
Or you can also use the :
Alternative Zip Mirror #1 – or – Alternative Zip Mirror #2