THIS is the page I will update with the list of all the works by the doujin circle Mitarashi Club (whose "real" name appears to be "Mitarashi Kousei" / "みたらし侯成") that I share on HentaiRules.
Mitarashi Club's specialty is hot housewives from popular anime and games in their thirties, who have tender sex with younger boys in love with them. Very few artists will make a 30-year-old woman look that hot, and often much hotter than the usual young girls you'll see in other hentai mangas

Here are the covers of the works by Mitarashi Club shared on HentaiRules, and below them are the links to the gallery and download pages.
---
Note: If you're searching for "A Cat Repaying Kindness" or "The MILF Next Door" ("Tonari No Okaa-san"), they're now both part of "Kazoku Donburi".

Akiko-San To Issho Volumes 1-16 [English, 570 pictures] (Kanon hentai doujinshi)
–

Akiko-san To issho volume 17 [English]
–

Akiko-san To Issho volume 18 [English]
–

Akiko-san To Issho volume 19 [English]
–

Akiko-san To Issho volume 20 [English]
–

Anata Ga Watashi No Yuusha-sama [English, Uncensored version]
–

Together With Ami [English, Uncensored]
–

Bad Communication [English, Uncensored]
–

Haruka-san To Issho [English] (To Heart 2 hentai doujinshi)
–

Kazoku Donburi [English, 220 pictures, Complete]
–
–
–
–

Sweet Jam [English] (Kanon hentai doujinshi)
–

Together With Nene-san [English] (Love Plus hentai doujinshi)
–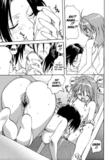 Uchi No Okaa-San chapters 1-4 [English, Uncensored]
–
–
–

Minami To P No Oshigoto [English]
Hello! This post is getting on years, so here's a friendly mention... If all the links are dead, you may try using
THE HENTAIRULES GIGATORRENT
Pick exclusively a precise file with a keyword search, or bulk leech like a madman, it's quick and easy