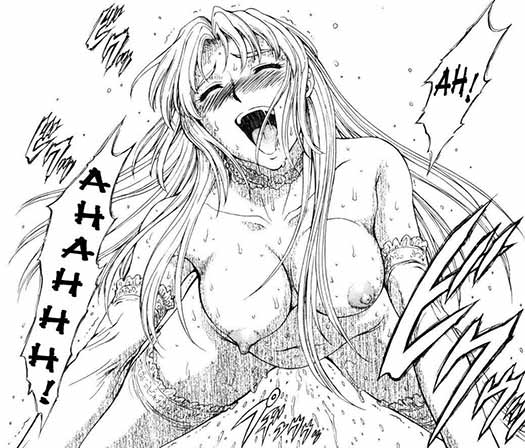 At long last, the translation of the 4th and final volume of Dawn of the Silver Dragon is finished, so I can share it

The drawing quality is on par with the previous volumes, and for the scenario, as expected (a poll, in volume 3, forecasted that), the ending is completely, utterly, definitely fucked up. I can't describe it without spoiling you the ending, so I'll let you see for yourselves

But, eh, you can still count on the fundamentals, "legitimate" male domination over women, mindbreak, rape, rape, rape, did I mention rape and mindbreak?, tentacles and shit like that.
Update: this volume used to be in magazine scans, AKA mostly low res, and definitely in poor image quality. Now, thanks to a good guy called Bientaimon, the manga was reedited into its tankoubon scans. Larger res (save a few images that were larger in magazine scans despite looking not as good), and better image quality.
Here are the links to the complete series:
volume 1 (now retouched) – volume 2 – volume 3 – volume 4 (now in tank scans)
By the same artist, additionally, I also share Guilty Sacrifice (200 pictures).
And now, the download & gallery links
Open the Complete Pictures Gallery
Or you can also use the Alternative:
Zip Mirror #1 – or – Zip Mirror #2 – or – Zip Mirror #3