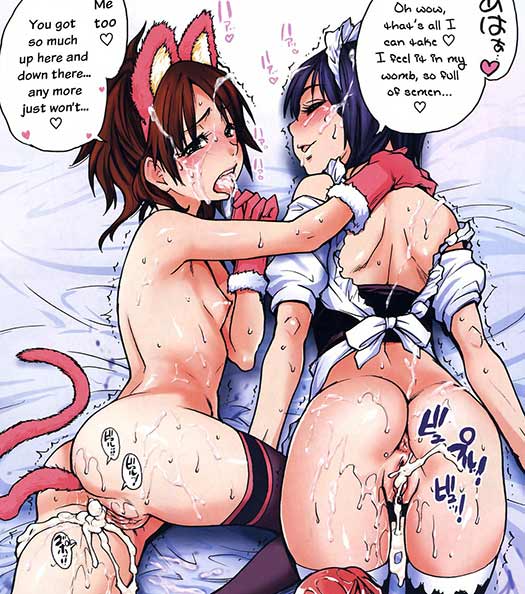 There ought to be a Nobel prize for Hentai, and if there were one, Overlook, the translator of this marvel, and Maiko, the decensorer of every single Shining Musume volume, would be the ones to deserve it – thanks a lot!

Here is the completely translated, fully uncensored, and final volume 7 of Shining Musume, by the godly Shiwasu No Okina

November 6th, 2018 update: the volume is now decensored, thanks to Maiko!
This volume is made of loose sequels to the volumes 1-6 of the Shining Musume series. Forget the epic and rapist previous vibes, and make room for amazing comedy, carefree enthusiastic powerful sex, numerous WTF moments, delightfully crude spicy dialogues and joyful prostitution!
Graphically, Shiwasu No Okina is at his best. Anal, vaginal, double penetrations, blowjobs with 1-2-3 girls, titfucks of heaven, lots of positions and costumes, duo, trio, hypergangbang (one man and 40 girls in the last chapter! FORTY girls! I counted them!

)
Final word : enjoy ! ^_^
Remember to view The Updated List of ALL Shiwasu No Okina's Works on HentaiRules!
And of course there's My Shiwasu No Okina Total Pack =)
And now, the download & gallery links
Open the Complete Pictures Gallery
Or you can also use the Alternative:
Zip Mirror #1 – or – Zip Mirror #2
I know I should shut my trap, I always write too long wall of texts, but I have to let it out. This volume contains some of the most memorable comedy moments I witnessed, the most epic "Virgin Pussy GET" raised hand in hentai, hidden Toblerone advertisements, and a swan dancer. Don't forget the swan dancer, it will haunt your nightmares – or your wet dreams perhaps, hard to tell

Lastly, obsolete thanks as they regard earlier versions of the volume, but it would be ingrateful not to mention them, I renew my gratitude to Accelerant Blue and Tama for earlier help

Hello! This post is getting on years, so here's a friendly mention... If all the links are dead, you may try using
THE HENTAIRULES GIGATORRENT
Pick exclusively a precise file with a keyword search, or bulk leech like a madman, it's quick and easy