| | |
| --- | --- |
| | After my usual "Make a good day a Shiwasu No Okina day", I'm soon going to also say "Make a good day a Lhytiss day" – thank you very much, Lhytiss, for Harem Tune ! ^_^Harem Tune is FULL with lots of goodies. Several great girls, small or tall, prideful small tits or heavenly large tits, acting alone or in duo, and their smiles, their cheerful nature, their ecstasy expressions… ! There is exclusively happy sex, tons of action, very hardcore a lot of times (DP, sure, banzai !). Scenario-wise, there's not much, a bit of comedy, and girls happily making their male harem, yummy :3 |
There's much more, Cf. Takaoka Motufumi's Works on hentairules

UPDATE : and don't miss Harem Tune volume 2 [English] ^_^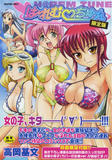 Open the Complete Pictures Gallery
Or you can also use the Alternative :
Zip Mirror #1 – or – Zip Mirror #2
–
Update, Important remark about the Gold accounts I offer
– Subtitle : for fuck sake, wasn't that obvious ?
I can see in my depositfiles member pages the names of the accounts that won each of the keys I offered. And I saw something desperately dumb, from the raw data :
24 hours Activated 2009-11-20 02:25 – HHHLover
2 weeks Activated 2009-11-28 02:55 – HHHLover
2 weeks Activated 2009-11-16 21:32 – HHHLover
So, dear HHHLover, a useful precision : this is ABSOLUTELY pointless to activate another account while your gold key is still valid, your current account wins and the bonus goes to waste, and this is SADLY selfish too. Shame on you.
Please, if you're lucky, remember not to monopolize the good things and keep some of it for everybody else too, guys, hm ?
–
Anyway, here is the bonus I was planning to offer this evening, wishing it for a more respectful, hopefully.
Just a little two-hours long bonus, may the fastest one win !
d6v6hx347n2ix10x8reg49y37tr1tlzj