Aki Kitahara, recently using the pen name Secret Society M, has a really GREAT drawing style, and yet I still had to share something by this artist. The reason is simple : the scenarii of his works are boring me, they are always based on pleasure in humiliation (not necessary on the female side) or in partly unwanted sex.
And yet… There's a shitload of translated works by this artist that have been translated into English, so let's make it a pack, and let you decide by yourselves

Today, I share EVERYTHING I have and I could find in English by this artist, I hope you'll enjoy some of the 286 pictures

Those works are:
Doukoku no Ori
Kinpatsu Tsuma no Toriko
Koi suru NyoTengu
Limit of Despair
Pleasure on the Opposite Side of the Vending Machine
Second Hand Nene-san
Utahime no Shouzou
Utahime No Shouzou 3
Yousei Keikaku
By the same artist, known as Aki Kitahara and Secret Society M, I also share Kousai Keiken Hitori Keiken Ninzuu 13-nin, Ninshin Shichatta Dareka Tasukete, Senpai Ga Benki, Torikage No Joou, Venus Ga Oji-san Ni Camera Mesen De Makuwararete, Sayonara Nene-san, Inyoku No Kan 2199, Helena-sama And I, and Shintaku No Kairou.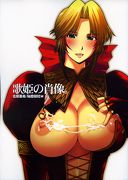 (scroll down for more preview pictures and covers !)
Open the Complete Pictures Gallery (or the backup gallery)
Download the BIG Hentai Pack in a Zip file
(105 MB, 286 pictures, English)

(please, is there a chance you can use the depositfiles link ? That will generate a tiny bonus for me, thank you very much if that's possible for you !


A bonus for you, the coupon '6qdw0f5bsz8o3pmunr8t7u7fvucb1jw6' gives a 10% discount on Depositfiles 6-months and 1-years accounts.)
Or you can also use the Alternative :
Zip Mirror #1 – or – Zip Mirror #2
One of these works (the Claymore doujin, Doukoku no Ori), is uncensored. I don't have credits for every of these works, but at least, my sincere thanks go to Dark Knight, Ayane, Ershi, Raze and Mike

Hello! This post is getting on years, so here's a friendly mention... If all the links are dead, you may try using
THE HENTAIRULES GIGATORRENT
Pick exclusively a precise file with a keyword search, or bulk leech like a madman, it's quick and easy