This is strange, I'm certain I used to share it on Hentairules, but I can't find it anymore
Well, who cares if it's a reupload or a first share, after all, heh ? Here is G-Spot episodes 1-2, a chikan-based hentai movie

The picture quality is great, and the sex is good (despite the hero being an ass), I hope you'll like it !
I can't comment much on the scenario (I always fast-forward movies, and the hero pissing me off – he scorns women, the idiot – didn't help), but it's mostly about consentend train groping leading to sex. The drawings are very good, with a fairly good animation.
Obviously, don't miss Midnight Sleazy Train, 3 hentai movies on the same theme.
Each movie is available in 3 versions : a HQ version (mkv containing a divx dvd-rip, japanese and english audio, subtitles – for "real" computers), and two "portable" smaller versions, in 3GP (for cellphones) and in MP4 (for PSP/Zune/Ipod/Ipad).
–
Episode 1
Download the Full Quality Version
(238 MB, Uncensored, English Subs, 640×480, 26 minutes)
Mirror #1 – or – Mirror #2 – or – Mirror #3 – or – Mirror #4 – or- Mirror #5
3GP version for cellphones
Mirror #1 – or – Mirror #2 – or – Mirror #3 – or – Mirror #4 – or – Mirror #5
MP4 version for PSP, Zune, Ipod and Ipad
Mirror #1 – or – Mirror #2 – or – Mirror #3 – or – Mirror #4 – or – Mirror #5
–
Episode 2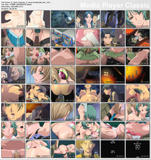 Download the Full Quality Version
(279 MB, Uncensored, English Subs, 640×480, 26 minutes)
Mirror #1 – or – Mirror #2 – or – Mirror #3 – or – Mirror #4 – or – Mirror #5
3GP version for cellphones
Mirror #1 – or – Mirror #2 – or – Mirror #3 – or – Mirror #4 – or – Mirror #5
MP4 version for PSP, Zune, Ipod and Ipad
Mirror #1 – or – Mirror #2 – or – Mirror #3 – or – Mirror #4 – or – Mirror #5