THIS is the page I will update with the list of all the works by Tanabe, more usually known from the circle name: Studio Tiamat, that I share on Hentairules.
The artist mixes humour (not a ton, but enough to keep us entertained and want to read more), good happy sex, and cute girls with fine faces and slightly plump bodies. I hope to read, some day, a non-doujin original creation by this artist !
Here are the covers of the works by Studio Tiamat shared on hentairules, and below them are the links to the gallery and download pages.
–

Break Blue Ragna-Lock [English]
–

Break Blue Eizen Maiden [English]
–
–
–

Two-works pack : Break Blue + Break Blue CS [English]
–

Shinku's Romantic Traveler's Journal [English]
This one is a Jojo's Bizarre Adventure doujin ! o_O
–
–

BreakBlue Stray Cat Extend [English]
–
–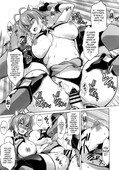 Break Blue Marron Sparring volume 1 [English]
–

Break Blue Marron Sparring Volume 2 [English]
–

Pack of 2 works, Break Blue: Blood Edge + Lust Bullet [English]
–

Break Blue The Synchronicity [English]
–

Break Blue Home Coming [English]
–

Break Blue X Marriage [English]
–
–
–

Chichi Zakari chapters 1-2 [English]
+ the Complete Japanese version of the manga
–

Senya Ichiya Suki Monogatari [English]
("One Thousand And One Nights Love Story")