I'll be sharing 3 good yuri hentai works today :
– Distant Evening,
– Memories Of Her, and
– To The Flower Garden

I don't want to appear too obsessed, but, really, what good is there in Yuri (lesbian hentai) without genitalia ? Gladly, the three works by Asagi Ryuu I'm sharing here display these precious little flowers (*cough*), it was a pleasure to the eye as well as to the mind (happy sex with complex women's liking feelings)
If you can enjoy vanilla yuri, go for it, this is some of the best Yuri I've seen (even if, so far, nothing ever came close to Maka Maka !)
These works have been released by Meido-san, Wandering_Soul09, Tanuki, SutaMiso, Saluki, AXYPB and Kuroshimaya, from the group Yuri Project, and by Javi, AudioErotica, Moneypenny from Payapaya Scans, thank you very much !
By Asagi Ryuu, I also share Oneesan To Aishiacchaou (196 pictures), Loving An Older Woman (202 pictures), Shoujo Seiiki (208 pictures, cute teen yuri slice of life), Heavenly Garden Where The Maidens Bloom ("Otome Saku 1": graphically the BEST yuri h-manga I have EVER read), Kuroyuri Shoujo Vampire ("Vampire Girl Black Lily", 200 pictures), Watashito Iikoto Shiyo? (201 pictures), I Fell in Love For The First Time, and Usui.
 The first page of each of them: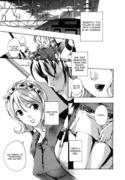 Open the Complete Pictures Gallery
Or you can also use the Alternative :
Zip Mirror #1 – or – Zip Mirror #2