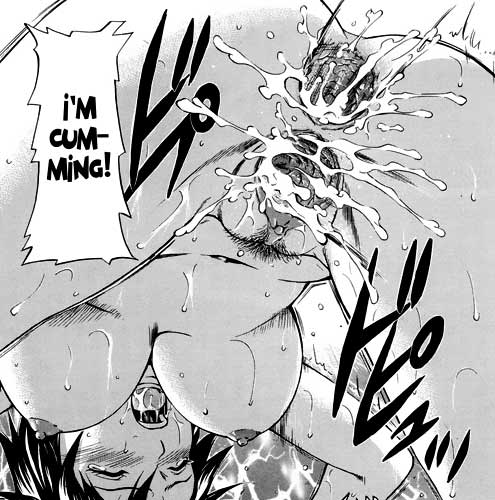 Aw, so SWEET !


Kindly brought to us by Flammz and CellTF, here is a fine hentai gem, of the finest quality. Mitsudaku Kanojo is made of single chapters (unrelated storylines), always displaying happy sex with mutual respect, and sometimes even mutual love. This is SO pleasant !
Some stories displayed good originality, like the well-ending "oops wrong sexual partner" bathroom chapter, or the likewise well-ending surprise ghost chapter. Some other chapters, while lacking creativity, were just SPLENDID and arousing like hell, like the beach sex one (and, RHA THAT BLACK BIKINIIIIII!!), or the "sex in the office" chapter (one of those rare occurences of me preferring legs and butt over breasts).
To the good sex, let's add the exceptional drawing quality. I meant it, exceptional. There were times when it reminded me of Cuvie's delicate touch, but with stronger contrasts and bolder lines. These self-confident eyes, these cheerful smiles… I really liked Mitsudaku Kanojo's girls

By the same artist, I also share Tottemo Hot Na Chuushinbu (228 pictures, Uncensored, new 2021 version), Koi No Tyunyu (231 pictures), Gokubuto Insert (217 pictures), Hajirai Body (230 pictures), Share House E Youkoso (201 pictures), Hokenshitsu No Sagara Sensei (203 pictures), Hotetta Karada O Hitorijime (222 pictures), Momoiro Triangle 1-4 (107 pictures, new 2016 version), Yoi Shimai Series and Ano Toki No Kanojo.
Open the Complete Pictures Gallery
Or you can also use the Alternative :
Zip Mirror #1 – or – Zip Mirror #2
Side note… There was only one chapter that looked bad, at first… And then, it becamse the first time I saw a thing like that, a story that is revealed to be about adultery, but that has a nice humorous ending without drama or negative feelings at all O_o
Also, I cropped one of the pictures, I'm growing fond of those "unlikely reflections in the eyes" panels ^^