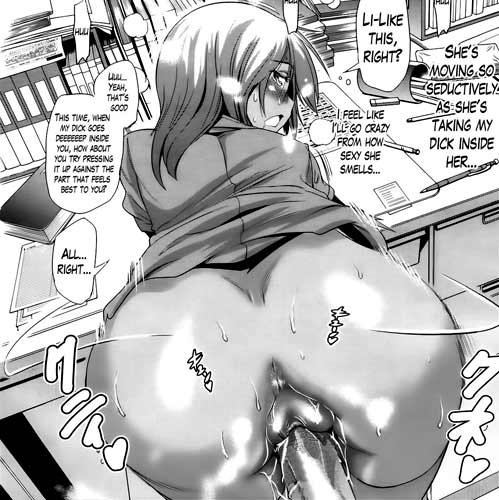 2016 update: Girls Lacrosse Club comes repackaged as a Tankoubon, and not just a mere compilation of chapters.
For moooooore details (honest trailer: a massive and boring wall of text) on the update, please scroll down to the bottom of this post.
Boys, girls, here is an AWESOME piece of hentai, ripe with comedy, godly drawings and loveable characters

Girls Lacrosse Club, or call it Joshi Luck actually, is the story of a male coach, joining an all-female Lacrosse team. The girls quickly establish moral and physical dominance (the poor bloke is kinda pathetic, huhu), until they discover his best features: his huge dick and unexhaustible stamina :3
Out of the many paths the scenario could have taken, we had the best one chosen: happy sex and comedy, all along!
Each girl has her own quirks and personal oddities, each of them is charming, full of life and enthusiam, and the coach, actually, is a good person, caring, and a wild hound only during sex


Combine the good story to the excellent art (amazing boobs, quality sex with sometimes little censorship, meaty bodies or borderline plump, ecstatic faces, beautiful lips – only one negative mention, the over-use of X-ray shots), and we've got a memorable h-manga to enjoy!

Credits are for Starfox, LustyLady00 and BlackRussian from The Lusty Lady Project, and CellTF, Ark, Grayson, Captain Cruch from Lewd Wani Bootleggers. I can't thank you all enough for this

The Girls Lacrosse Club / Joshi Luck / Jyoshi Luck / Joshi Lacu series spans over several volumes:
– (1) Girls Lacrosse Club, the present share, a splendid 269 pictures long manga (a series derived from a serialization called Motenai Girls, that was halted when the mangaka switched to another publisher)
– (2) the Anekomori manga, 267 pictures long, almost entirely made of the sequel to Girls Lacrosse Club
– (3) 2 Years Later, volume 1, taking place, I shit you not, two years later.
– (4) Joshi Luck, 2 Years Later, volume 2. It's not fully scanlated yet, it's still ongoing.
(Remember to view the list of all Distance's works on Hentairules)
Open the Complete Pictures Gallery
Or you can also use the Alternative:
Zip Mirror #1 – or – Zip Mirror #2
I'm ready. Bring it on, Distance !
–
Smaller version incoming!
Most of the images were already in "small" res of 1600 px, so those ones were simply slightly recompressed. A few pictures were in superior 2400-or-something and 3000 px: the Extras; those ones were shrunk to 1600 px.
All in all, the zip's file size shrunk from 251 MB to 125 MB.
Personally, I prefer it for reading, and it takes less disk space.
Download links, Zip: Mirror #1 – or – Mirror #2 – or – Mirror #3
–
And now, the wall of text I promised you:
Why this post, written in 2014 has been updated in 2016.
A kind anon sent me a Tank version of the Joshi Luck, AKA Jioshy Luck, AKA Joshi Lacu, AKA Girls Lacrosse manga.
I'm using it to update what I'm sharing on Hentairules, however, I'm afraid, it calls for a wall of text made of clarifications, half of which will probably make you more confused than you used to be, I apologize in advance for my poor description skills.
– Is it a real tank, or a "tankoubonizing", AKA taking a scanlation made of magazine scans, and adding to it the covers, backcovers and bonuses of the tankoubon?
Honestly: I have no clue, lol. I didn't find a Japanese original to use it as comparison material. But the low amount of censorship and the lack of recognizable end of chapter graphical tags that come with magazine prints, makes me think we are, here, with magazine scans.
My conclusion: I'm calling it a tank version.
– The "Extra chapter Akagiya Aya" actually does NOT belong in the "Joshi Luck" ("Girls Lacrosse") tankoubon.
It belongs in the Anekomori tank (pages 118-133, starting here)
So: even though it came bundled by me, in the present post, in 2014, with Joshi Luck / Girls Lacrosse, I removed that Extra Chapter Akagiya Aya from the new version.
This extra chapter still comes with dreadful full whiteout typical magazine censorship, even when bundled inside Anekomori. Draw whatever conclusion you want from this.
– Are there any differences within the chapters, compared to the old version? I don't think so. But I may be mistaken, I didn't compare it page-by-page, I only compared like two dozens pictures over the manga.
– I noticed the credits pictures were gone from the version I got from the person who sent it to me.
Why? Even discontinued, the Lusty Lady Project scanlation group deserves love.
I fetched the credits pics from the version I was sharing, and added them back.
– One bonus pic looked better in the magazine version than in the tank version, the image with the 5 Lacrosse girls laying on the beach in their swimsuits. I brought it back too.
– Minuscule edits to the cover to provide an alternative version without pixel pollution and clone-stamped removal of horizontal scratches. Coming at the cost of some details, so it's not a replacement, it's the addition of another image.
– I saw some time ago an "uncensored chapters 1-3 version". I chose not to take it: most of the censorship was still present, and the few images without censorship had blurry decensored areas, not worth keeping in my opinion.
– Depending on where the tankoubon was bought in Japan, it came with two small bonuses, the Melonbooks Extra and the Toranoana Extras. Both of them are present in the version I share (pages 244, and 252), while they weren't present in the original post I made.
– Don't forget, there are sequels: Anekomori and Girls Lacrosse Club 2 Years Later.
Most likely, the 2 Years Later one is a new serialization with new episodes to come, but of that I'm not sure yet, as it was published in a brand new magazine and the future of it is yet unknown.