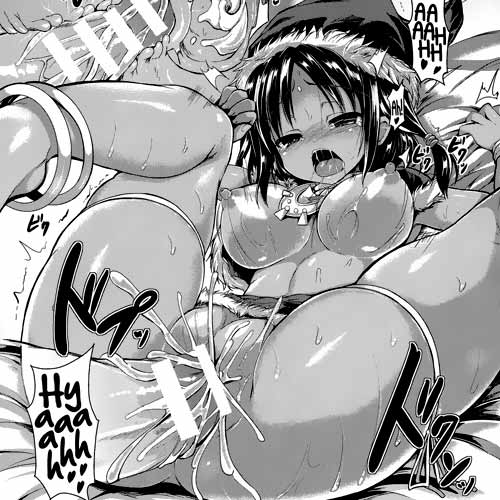 So, Santa is a petite busty tanned candid girl with adorable dark skin, she got lost on Christmas day, a kind young man gave her shelter, and five months later she's still at his place, until at last she gathers the resolve to read his mind and offer him the present he wants.
He wasn't wanting a Wii U.
This nice one was released by Crystalium, MrWayne, KirbyDances, Axalon, Psyburn21 and Altereggo, from Team Vanilla, thank you very much !


A question, please, I didn't get this "Obon gift" thing, in the end, would someone manage to explain to me ?
By the same artist, I also share Katakoi and Please Hold Me.
Open the Complete Pictures Gallery
Download the Free Hentai Manga in a Zip file
(55 MB, 24 pictures, English)

(please, is there a chance you can use the depositfiles link ? That will generate a tiny bonus for me, thank you very much if that's possible for you !


A bonus for you, the coupon '6qdw0f5bsz8o3pmunr8t7u7fvucb1jw6' gives a 10% discount on Depositfiles 6-months and 1-years accounts.)
Or you can also use the Alternative :
Zip Mirror #1 – or – Zip Mirror #2
–
As of usual when ✔ the images are in high enough resolution and ✔ the archive is quite big for its number of pictures, and ✔ it offers a significant gain, and ✔ I have enough time to do it, if it may help, I'm offering you a smaller version, in which I resized the images, here from 2500 px to standard 1600 px resolution. The zip shrank from 55 MB to 14 MB.
Personally, I prefer it for reading, it takes less disk space, and it's the version I used for the preview pics.
Download links, Zip : Mirror #1 – or – Mirror #2 – or – Mirror #3