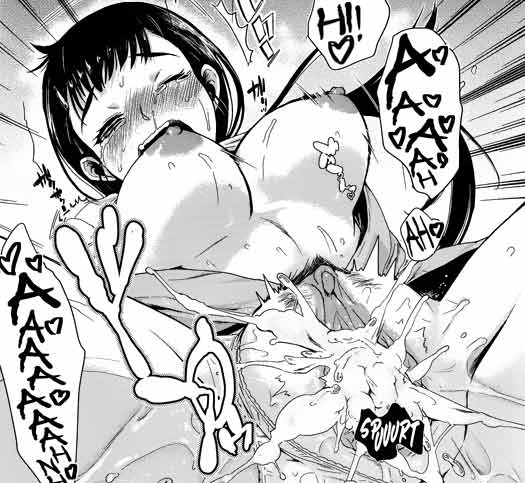 And there we are, with its final chapter 4, the Shibatte Aishite story is now complete

This is an interesting story, in which love starts blooming between two highschoolers. The girl, apparently a stern figure of authority, has a fetish for being tied up and dominated, while the boy in love with her, the kind and girly type, although he doesn't particularly dig that stuff (he's not a natural born sadist), does his best to cater to her kinky needs and enjoys great sex nonetheless. Still, his unease grows, can love and sadism coexist ?
How do you you think things will turn out ? I'm not going to throw you any spoiler

The heroine's facial expressions were intense, her smiles were unique, and I like how the story developed, mixing love, drama and eroticism. That felt so good I'll even forgive the black censorship rectangles getting in the way !
Thanks a lot to Crystalium, Palaxius, Cadenza and Freudia, from Team Koinaka !

By the same artist, under the pen names Penpengusa Club and Katase Minami, I also share Love Panic (198 pictures), Toaru Kagaku No Judgement Soushuuhen 1-5 (179 pictures), Mitsugetsu Honey (212 pictures), Sweets Kyousoukyoku ("The Sweets Rhapsody"), M No Shisen, The One I Love, Shitte Aishite 1-3, Manatsu No Reversible, Sayashi Dashi, Toaru Kagaku No Fuuki Iin 6 and The Second Dimension Moves By Love.
Open the Complete Pictures Gallery
Or you can also use the Alternative :
Zip Mirror #1 – or – Zip Mirror #2
–
If it may help, I'm offering you a smaller version. Half of the images were over the standard average 1600 px : they were shrunk back to 1600 px. The other half were either at 1600px already or below, so they were "only" recompressed without a loss that would be visible to the naked eye.
All in all, the archive size's fell by half, from 97 MB to 48 MB


Download links, Zip : Mirror #1 – or – Mirror #2 – or – Mirror #3