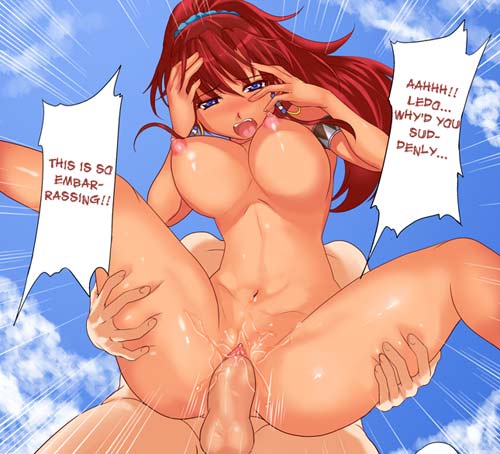 Ledo and Bellows. On the beach. Relaxing, training to swim. And suddenly, SEX !
Yeah, basically, that's it, lol ^^ There is no real scenario, no need to know anything about Suisei No Gargantia, it's simply an experienced Bellows-chan offering Ledo a wonderful first time. I don't know if she was a good swimming instructor, but regarding sex, in her orange small bikini, she was a perfect hentai teacher ^__^
Fair warning, even if the drawings are great, the images were in small res (911 pixels) and the art, although good, didn't really look Japanese, it felt more like a western comic taking inspiration from hentai mangakas. It's strange, since apparently WhistlerX is a "real" mangaka, maybe it's an effect of the combination of small res and full-color ? It's still good, I'll insist

Release credits are for Red_Piotrus, Herreis, Meow_Pao, Raymoohakure, from EhCove, thank you !

Open the Complete Pictures Gallery
Download the Free Hentai Manga in a Zip file
(9 MB, 15 pictures, English)

(please, is there a chance you can use the depositfiles link ? That will generate a tiny bonus for me, thank you very much if that's possible for you !


A bonus for you, the coupon '6qdw0f5bsz8o3pmunr8t7u7fvucb1jw6' gives a 10% discount on Depositfiles 6-months and 1-years accounts.)
Or you can also use the Alternative :
Zip Mirror #1 – or – Zip Mirror #2
Hello! This post is getting on years, so here's a friendly mention... If all the links are dead, you may try using
THE HENTAIRULES GIGATORRENT
Pick exclusively a precise file with a keyword search, or bulk leech like a madman, it's quick and easy