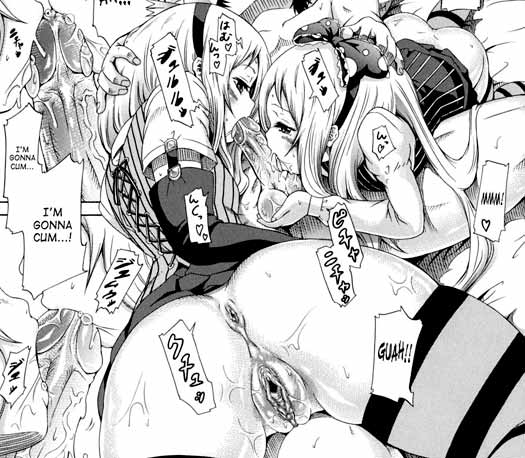 — UPDATE : two of those 3 works are now obsolete, they have now been repacked within:
Innocent ~Shoujo Memoria~ (a splendid 202 pictures long tankoubon.)
Those two works are : Shooting Star Gemini and Master & Maidoll.
As an artist, Akatsuki Myuuto hardly needs presentation. Original stories, either in "normal life" but with something off and unusual, or in a fantasy/sci-fi setting.
On top of all, graphically, this is always top-notch, fabulous. Super cute girls, enjoying having sex, drawn with crazy talent… like here, again, and it's practically uncensored

The three works by Akatsuki Myuuto that I gathered here were translated by Saha and commissioned by Omega999, thank you !


These works are:
– Master & Maidoll : a rich weird guy loves, creates and trains sex dolls
– Moratorium Shounen X Shoujo : in the same universe as The Princess Of The Sleep, two highschoolers elope to escape bullying and stop being teased for still being virgins
– Shooting Star Gemini : the most complex story, about selfishness, fair exchange, openness to what's around oneself. Served with fantastic drawings that I'd be dying to see applied to young MILFs


Fair warning, it made me very uneasy, the girls look young. Save 3-4 pages at the end of Master & Maidoll, it's still not loli, but dangerously borderline nonetheless :/
By the same artist, I also share Beautiful Girls Club ("Bisyoujo Club") volumes 1-2 (Tank, 442 pictures), Lingua Franca (252 pictures, Uncensored), Isekai Harem Paradise Jou + Ge (407 pictures), Dorei Usagi To Anthony (uncensored, 243 pictures), Lovemare Jou (250 pictures), Lovemare Ge (242 pictures), Shoujo x Shoujo x Shoujo (213 pictures), Innocent ~ Shoujo Memoria ~ (202 pictures) and Shoujo X3 the hentai anime – episode 1.
Complete pictures galleries :
Master & Maidoll – Moratorium Shounen X Shoujo, and
Shooting Star Gemini
Or you can also use the Alternative :
Zip Mirror #1 – or – Zip Mirror #2