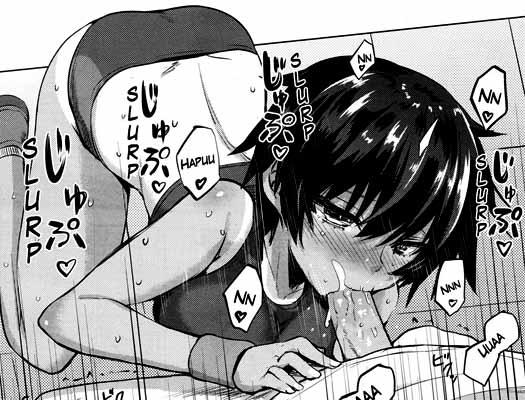 « Hang on. You… You were grabbing my ass.
I liked it. »
…


This is a nice share we've got her, in which the male hero is the small type (not shota, just, well, short, not manly), he admires his track and field club female senpai, a nice babe, with a large rack, tanlines, bloomers, and very well-shaped body. Senpai noticed him: she asks him to massage her.
I won't even pretend there was suspense here, they were mutually in unconfessed love, and the girl made the first step, she was the one with control and authority

So, good happy sex with love confessions, and as for the art, YUM! The girl's body was nice, as you can see


Translations credits are for Ecchihabara, thank you! ^_^
By the same artist, I also share Kawakami No Maedewa Sessei Dekinai Setsu, Nanige Ni Kuribayashi Wa Kamisoukou, and Shishi Ane.
Open the Complete Pictures Gallery
Download the Free Hentai Manga in a Zip file
(16 MB, 18 pictures, English)

(please, is there a chance you can use the depositfiles link ? That will generate a tiny bonus for me, thank you very much if that's possible for you !


A bonus for you, the coupon '6qdw0f5bsz8o3pmunr8t7u7fvucb1jw6' gives a 10% discount on Depositfiles 6-months and 1-years accounts.)
Or you can also use the Alternative :
Zip Mirror #1 – or – Zip Mirror #2
Minor update: in the Zip links, the artist's name appears as Koppa. Actually, it is Koppe, I count on you to make the correction yourselves, thank you

Hello! This post is getting on years, so here's a friendly mention... If all the links are dead, you may try using
THE HENTAIRULES GIGATORRENT
Pick exclusively a precise file with a keyword search, or bulk leech like a madman, it's quick and easy