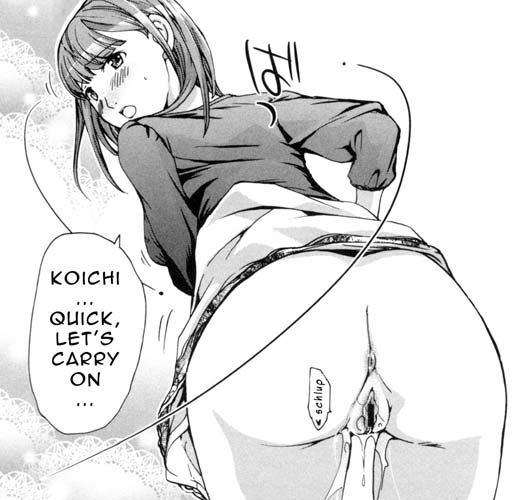 YAHAAAA, at long last, Asagi Ryu is back into heterosexual love!!


Thanks a lot, a whole lot, to Junryuu, for this release!


The theme, as announced by the manga's title, is couples in which the woman is older than the man. Most often there's a gap of a whole generation, but sometimes it's just a pair of years. I made the math, there are 8 women and the average age is 31.6

The stories are very Japanese, with unspoken feelings matched by bold actions, with the women keeping composure and most often (save the 3 youngest ones, aged 16, 22 and 18) preserving their poker face even though they've got intense emotions raging inside of them. No need for more details, a youngest man understands them and they strengthen their bonds until sex followed by love bloom.
Graphically, this is very good, with lots of subtle, well drawn details, and very low censorship. Fair warning, the women's bodies do show their age, this is realistic (slightly sagging breasts, stretch marks, lines under the eyes).
By Asagi Ryuu, I also share Loving An Older Woman (202 pictures), Shoujo Seiiki (208 pictures, cute teen yuri slice of life), Heavenly Garden Where The Maidens Bloom ("Otome Saku 1": graphically the BEST yuri h-manga I have EVER read), Kuroyuri Shoujo Vampire ("Vampire Girl Black Lily", 200 pictures), Watashito Iikoto Shiyo? (201 pictures), I Fell in Love For The First Time, Usui and a pack of 3 works (Distant Evening + Memories Of Her + To The Flower Garden).
Open the Complete Pictures Gallery
Or you can also use the Alternative :
Zip Mirror #1 – or – Zip Mirror #2
–
Recompressed version incoming!
As of usual when ☑ the archive is quite big for its number of pictures, ☑ it offers a significant gain, ☑ the images are not in damn too high resolution, and ☑ I have enough time to do it, if it may help, I'm offering you a smaller version, in which I recompressed the images.
There should be no loss of quality for the naked eye, only a loss in megabytes.
The zip shrank from 143 MB to 56 MB.
Download links, Zip : Mirror #1 – or – Mirror #2 – or – Mirror #3