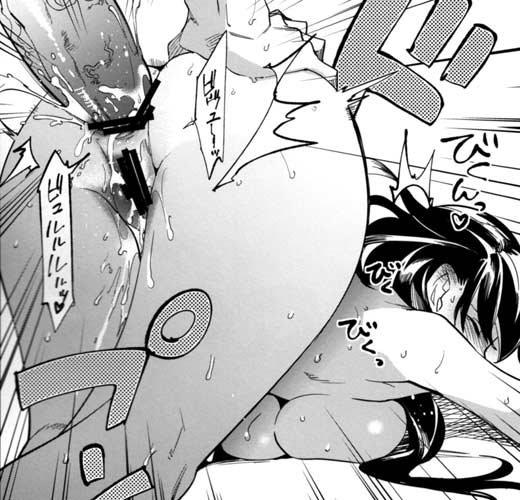 I wrote it two years ago for the release of the volume 3, I cannot say it better today: the Es To… series is one of the best things that happened to hentai. With a huge focus on the characters, on humour, with eroticism, shamelessness and fun adding a bit of magic into the lives of daily adults… We're shown some of the most adorable slice of life vanilla hentai there is


Graphically, this is quite mild, only one scene per volume, less sex than non-sex pages, and the art is "only" good (without being exceptional), I'm not promising you Pr0n Heaven, mind you. But if you've got a thing for happy sex with love, for funny characters, for stories with working adults, this was… AWESOME to read ^_^
Release credits are for Red Vodka, Neko Arcueid Brunestud, and Phantom Renegade, from Red Vodka Translations and Trinity Translations Team, thank you VERY much !

And, scroll down, I'm sharing a repack of the 4 volumes together, Es No Madobe, Es To Tonari No Heya, Es To Es, and the latest Es No Risei.
By the same artist, I also share Leather Face and Yojo-han Bunny.
Complete pictures galleries :
Es… volume 1 (Es No Madobe)
Es… volume 2 (Es To Tonari No Heya)
Es… volume 3 (Es To Es)
Es… volume 4 (Es No Risei)
And now, the download links.
It's difficult to avoid confusion, there are four zips in total.
I'll try my best, okay ?
I share 4 zips. In 2 pairs.
– First pair, for Es No Risei, the 4th volume in the Es… series (68 pictures).
First, the "official" version, with its high-res pictures slightly above 3000 px, and, second, a version in which I shrunk the images to 1600 px, the file size fell from 140 MB to 18 MB, 122 MB smaller!
– Second pair, for my repack of the four Es… volumes (190 pages).
The four volumes are…
1: Es No Madobe,
2: Es No Tonari No Heya,
3: Es To Es,
4: Es No Risei
First, I'm sharing for these four volumes the "official" version (with higher res images: above 2000px, 2500px, around 2400px, and now above 3000 px), and, second, my "made smaller" version (shrinking the images to 1600 px saved us 358 MB, from 409 MB to 51 MB!)
– Es No Risei, the 4th volume in the Es… series
Full-size version, zip: Mirror #1 – or – Mirror #2 – or – Mirror #3
Smaller version, zip: Mirror #1 – or – Mirror #2 – or – Mirror #3
– The repack of the 4 Es… No/To volumes!
Fulll-size version, zip: Mirror #1 – or – Mirror #2 – or – Mirror #3
Smaller version, zip: Mirror #1 – or – Mirror #2 – or – Mirror #3
Hello! This post is getting on years, so here's a friendly mention... If all the links are dead, you may try using
THE HENTAIRULES GIGATORRENT
Pick exclusively a precise file with a keyword search, or bulk leech like a madman, it's quick and easy