Marui Maru, here's an artist that I find excessively easy to love


Let us combine cheerful smiles, light comedy spirit, carefree attitudes, large breasts, wonderful faces and amazing godly round butts

Mind you, the mangaka will occasionally trod among territories I am not comfortable with, like femdom, showing men being mentally tortured, inflicted physical pain, and used as sex toys by dominating women. Honest disclaimer: I don't share all of the the translated femdom works by Marui Maru, the ones with pegging (inserting stuff into boys' ass) are too much for me.
Fortunately, most of Marui Maru's works aren't like that

I'll list here all my Marui Maru shares.
First the covers, and then, scroll down, the links.
–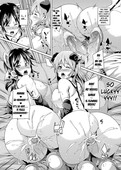 Double Wife Sand [English, 236 pictures]
–

Muchi Muchi Cream Pie [English, 226 pictures]
–

Dangyakukei Joshi ("Femdom Schoolgirls") [English, 184 pictures]
–

Shita No Okuchi De Chu Chu Shiyo [English, 224 pictures]
–

Fuwatoro Jusei Chuudoku ("Soft & Melty ♥ Impregnation Addiction!") [English, 238 pictures]
–
–

Panpan Yawaraka Ecchi Ana [English, 235 pictures]
("Smack Smack Soft Lewd Hole")
–

Ran Drop [English, 200 pictures]
–

Tanetsuke Inferno ("Mating Inferno") [English]
–

Soredemo Boku Wa… ("Even so, I…") [English]
–

Hattara Yarachau [English, 223 pictures]
The full title is "Hattara Yarachau!? Ero Seal ~ Wagamama JK no Asoko o Tatta 1-mai de Dorei ni ~", translated to "Commanding Stickers!? Ero Seal ~With One Sheet Selfish High Schoolers Become Enslaved to Cock".
–

M Otoko Izonshou [English, 182 pictures]
("Masochist Man Dependence")
–

Makai Ryuugaku [English]
These are the chapters 1-3 of the "Kemopai ~ Sakusei Girls ~" tank.
The first chapter was known as "Study Abroad In The Demon World".
–

PakoPako Douwa – Ookami-chan Cho Bicchi [English]
("Banging Fairy Tale – Wolf-chan Is An Ultra Bitch")
–

Hips MuchiMuchi Cream Pie [English]
–
–
–
–

The Woman In The Corner Room [English]
–
–

Kokugo No Jikan Wa Bokki Suru [English]
("I Got A Boner In Japanese Class")
–

Onee-chan Onanie ("Jack Off Girls") [English]
–

Henpousei Lucky Sukebe ("Luck With Lewd Reciprocity") [English]