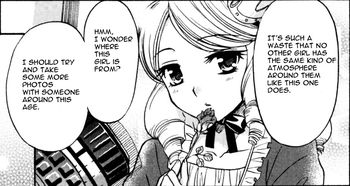 Hey, Troops! DeltaOblivion with the share that started my love with Traps. Sadly it's only half translated and this tank has been out since 2009. Up to today only 7 out of 13 of its chapters are translated: 5 Traps Stories and 2 Traditional Yaoi Stories. The name of this tank is: Tachippana by Momoya Tachibana.
6 years ago, I used to say "No way in Hell I'll enjoy Yaoi!" But then I found a chapter of this tank and my perspective to the genre change in more ways than one. The way Momoya Tachibana gives an artistic detail to her work, I was awe struck. "Could Yaoi, be as simple as she's putting it?" and as the years went by, I became more open-minded on the subject. But not enough to make me bi-curious mind you. ROTFLMAO XD Still it saddens me that even though it's been 7 years since its release, it's only half done. I can't commission the remaining chapters due to my financial circumstances and I tried setting up a bounty on E-Hentai, but I always get an error message so I gave it up. And don't bother teaching me how to put up a bounties since I practically used up most of my credits. I can grind for Creds on the Hentai Verse Arena and I'm a Champion level 82, so I can make over 11,000 Creds a day; but I don't have the time to grind daily since I have a day job. <:_(
I know what you guys are thinking and you are wrong. I'm not turning my back on Monster Girls just because I started posting Yaoi. Next month I will be doing one on and one off. What I mean is The 1st share starting next month will be MON, while the following will be Trap, then MON, followed by Trap: one on and one off. If I post Mon and then Futa, believe me I'll be posting Trap after the Futa. Same thing goes for Gender Benders, incest, straights and alike. Casual shares like these are neutral, not part of the one on and one off equation. Also I'll be adding "Tomgirl" Tags to certain Yaoi shares since I think I might be sharing traditional Yaoi too, not just Traps. The Tomgirl Tag started popping up on E-Hentai not so long ago, which means a boy that act more feminine; it's similar to its counterpart "Tomboy" which you all know means a girl that behaves like a boy. Still I hope this share is just as illuminating to you as it did to me. Enjoy! XD
199 Pictures, 73.46 MB
 Mirror #1 – Mirror #2 – Mirror #3
I know you guys were expecting a special announcement from me, but that will take place later in the month. Trust me, it maybe worthwhile. And that's a BIG Maybe, so don't expect something wily on my part, since I'm practically wily most of the time with you guys.
Hello! This post is getting on years, so here's a friendly mention... If all the links are dead, you may try using
THE HENTAIRULES GIGATORRENT
Pick exclusively a precise file with a keyword search, or bulk leech like a madman, it's quick and easy