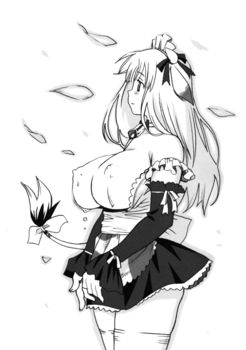 Hey Troops! DeltaOblivion here posting a share that's about over a month overdue. Kemomimi Volumes 1-4. Be for warned I'm not including Volume 5 since Oliver posted it himself, so if you want it then click HERE to get to Volume 5.
First and for most I apologize for being away for so long. But to tell the truth last year during the holidays worked me over like a steamroller on hot pavement. So I decided to do extra work now and have the holidays for myself. Seriously interviewing SOBs during the holidays is no picnic; truth be told I wanted to throw myself out of a window and plummet to my death as I fall from the 8th floor of a building. Trust me the only buildings in this island that has about 10 stories high is a police station in key points like Ponce, Mayaguez and San Juan.
Well no use crying over spilled milk, so let's get this party started. Volumes 1,3 and 4 is all about a man named Hiro; who one day he wakes up to see a Cowgirl named Milk sleeping besides him. It turns out that she's a stray looking for a new master and oh boy, I'm so jealous I really want to keep the story to myself, so you can find out how their life comes to a beautiful start. Volume 2 is about a man whose car breakdown in the middle of nowhere, surrounded by flora and, dare I say it, delicious fauna in the form of Catgirls. This one is my personal favorite, sadly unlike Hiro/Milk it has no sequel. The way Volume 2 ends leaves me asking for MOAR!!! XD
Many thanks to SMDC-Translations, Desudesu, Anonymous Scanner and Heart and Feather Translations for all their hard work in translating these awesome works. Enjoy!!!
Pictures Galleries
Kemomimi! 3 ~Christmas Hen~ – Kemomimi! 4 ~Imouto Houmon Hen~
105 Pictures, 122.24 MB
Mirror #1 – Mirror #2 – Mirror #3
Hello! This post is getting on years, so here's a friendly mention... If all the links are dead, you may try using
THE HENTAIRULES GIGATORRENT
to grab the file you want. You can just pick the stuff you need, it's quick and easy