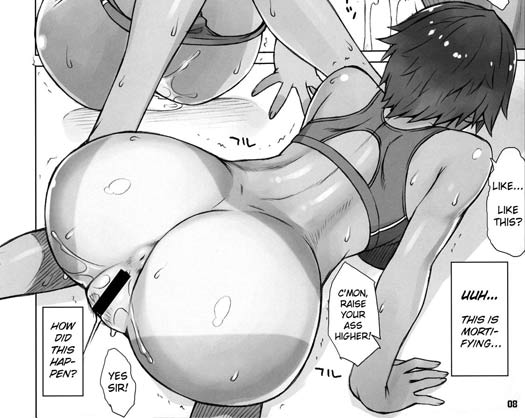 « HEHHEHHEH… Get pregnant, or set a new world record! »
:noway:

:facepalm:
Axalon from Thelostlight.funeralofsmiles.com, MrWayne from Casawayne.blogspot.com, CynicW, Tracesnull from e-hentai, bring us a share that gave me very strongly contrasted feelings. I felt enthusiastic for the visual side, but depressed because of the story. Thanks for releasing it, still

The girl in this share is super hot: tanned skin and tanlines, a fit body (well, she's an athlete), thick eyebrows, a nice shapely ass. Yum.
But she's placed in a situation of inescapable despair, realizing she's just meat for male sexual enjoyment and a belly to bear promising genes. Yuck.
–Update: and now, there are sequels! Shidoukan Crouching + Shidoukan Outdoor.
By the same artist, known as Bang-You, Manguri Cannon and Nagaredamaya, I also share Stopwatcher (202 pictures), UrAnus, Uranus-san Vs Toumei Ningen, Shidoukan Crouching + Shidoukan Outdoor, Yoruneko-san No Shunkou Raijuu Ikaryaku, Bang You Collection Vol 3, Degeneration and Lunar Eclipse.
And now, the download & gallery links
Open the Complete Pictures Gallery
Download the Free Hentai Manga in a Zip file
(52 MB, 22 pictures, English)

(please, is there a chance you can use the depositfiles link ? That will generate a tiny bonus for me, thank you very much if that's possible for you !


A bonus for you, the coupon '6qdw0f5bsz8o3pmunr8t7u7fvucb1jw6' gives a 10% discount on Depositfiles 6-months and 1-years accounts.)
Or you can also use the Alternative:
Zip Mirror #1 – or – Zip Mirror #2
–
Smaller version incoming!
As of usual when ☑ the images are in high enough resolution and ☑ the archive is quite big for its number of pictures, and ☑ it offers a significant gain, and ☑ I have enough time to do it, if it may help, I'm offering you a smaller version, in which I resized the images, here from 3000 px to standard 1600 px resolution.
The zip shrank from 52 MB to 6 MB.
Personally, I prefer it for reading, and it takes less disk space.
Download links, Zip: Mirror #1 – or – Mirror #2 – or – Mirror #3