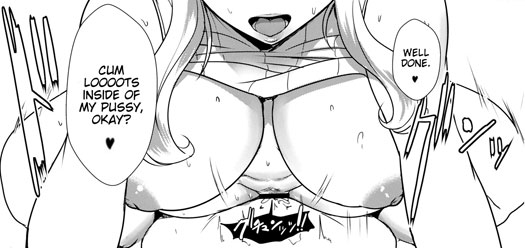 Usually, when I google the name of a series, two websites are competing for the top spot, My Anime List and Wikipedia. For many years it was only Wikipedia, and them MAL became competition (I still wonder how it felt to the admins of the website, huge victory or maximum panic at the thought of the new server load, huhu). Today, I think this is the first time I found a series only mentioned on MyAnimeList and not having a Wikipedia page: Sunoharasou no Kanrinin-san


I prefer giving Wikipedia links because usually MAL only cares about the anime adaptations (which kinda makes sense, "my anime list", after all), but this time I'll do with that I have ^^
Anyway. This share. A middle school boy has to live in a house with four adult women, and in the present hentai doujinshi he confesses his love to one of them. Who was naturally a huge shota-lover and doesn't miss the golden opportunity.
The drawings aren't fantastic, but if you've got a thing for older busty (slightly plump) women taking the lead, maybe you'll love that share.
Thanks to whoever is behind this release!

By the same artist, known as Nosebleed and Miyamoto Issa, I also share Keraku No Yume, Himegoto Senpai, Iinari no Susume ("Advice For The Whipped"), Aru Kizoku No Shiawase ("A Certain Noble's Happiness"), LiMiM's, Lilim's+ and Lilim's Kiss, Muttsuri Chichiue Amaama Koubi, Muttsuri Chichiue Torotoro Koubi, Seicross, Welcom, Itoshi No Onii-sama – Lilim's Gaiden (uncensored version) and Yasashii Kashima-san ("Gentle Kashima-san").
And now, the download & gallery links
Open the Complete Pictures Gallery
Download the Free Hentai Manga in a Zip file
(19 MB, 20 pictures, English)

(please, is there a chance you can use the depositfiles link ? That will generate a tiny bonus for me, thank you very much if that's possible for you !


A bonus for you, the coupon '6qdw0f5bsz8o3pmunr8t7u7fvucb1jw6' gives a 10% discount on Depositfiles 6-months and 1-years accounts.)
Or you can also use the Alternative:
Zip Mirror #1 – or – Zip Mirror #2