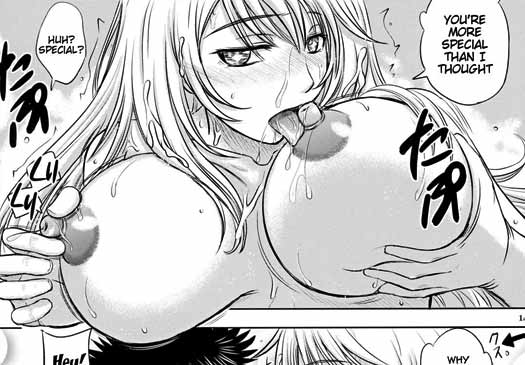 Here's one of those Railgun doujinshi that MHM loves to commission from Tigoris Translates, thank you as always ^_^
In that one, it's the typical Misaki (blonde, brazen attitude) VS Misaka (tsundere petite brunette) competing for Touma's dick, somehow. The drawings have an amateurish side (for instance, the faces aren't really like their inspiration originals) that may displease people, possibly, but that's precisely what doujinshi are originally, fan-made productions and not perfect professional work ^^
By the same artist, I also share Houkago Ni Irohasu To, Wedding Irohasu, Iyarashii Houshi-bu No Kanojo-tachi, Kanojo To Aoki Nikuyoku No Enjin, Kara No Utsuwa Kouhen and Sanrenkyuu Wa Asa Made Nama Yukinon.
And now, the download & gallery links
Open the Complete Pictures Gallery
Download the Free Hentai Manga in a Zip file
(71 MB, 26 pictures, English)

(please, is there a chance you can use the depositfiles link ? That will generate a tiny bonus for me, thank you very much if that's possible for you !


A bonus for you, the coupon '6qdw0f5bsz8o3pmunr8t7u7fvucb1jw6' gives a 10% discount on Depositfiles 6-months and 1-years accounts.)
Or you can also use the Alternative:
Zip Mirror #1 – or – Zip Mirror #2
–
Smaller version incoming!
As of usual when ☑ the images are in high enough resolution and ☑ the archive is quite big for its number of pictures, and ☑ it offers a significant gain, and ☑ I have enough time to do it, if it may help, I'm offering you a smaller version, in which I resized the images, here from 3000 px to standard 1600 px resolution.
The zip shrank from 71 MB to 10 MB.
Personally, I prefer it for reading, and it takes less disk space.
Download links, Zip: Mirror #1 – or – Mirror #2 – or – Mirror #3