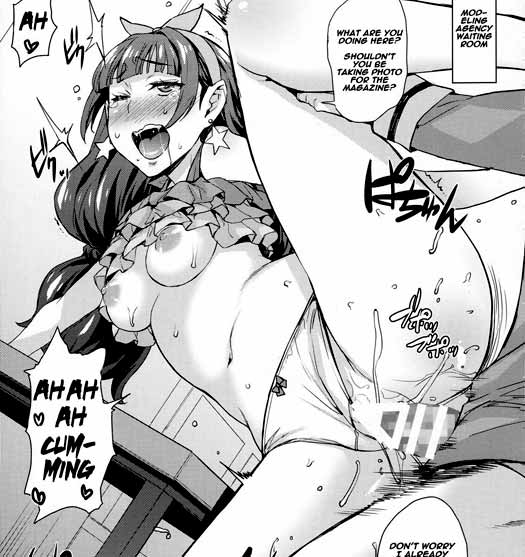 Kirara Amanogawa, one of the "Go! Princess Pretty Cure" girls, is hypnotized by your random hentai joe and becomes a slave to her lust (and to his dick.)
We watch her having sex in school uniform, in a sort of nanobikini nekomimi outfit, in magical girl outfit, and, on one page, in bloomers.
I'm tagging this as rape, mindbreak and hypnotism, however the open ending leaves certain room for doubt, perhaps the girl wasn't so ignorant of what was going on. Not sure. And she fully loved having sex all along.
The graphical side also gave me contrasted feelings. On the white hand, there's this abominable blur-mosaics censorship on the man's dick, on the other hand, the drawings are by Takurou Art Works and, damn, it shows, it's quality


Thanks to NaxusNL for this new hentai release!

By the same artist, known as Mix Fry and also as Takuro Art Works (or add an "u" and make it "Takurou"), to this day, I also share Rika No Kenkyuushitsu ~ Chiteki na Rikei Onnano Seitai (206 pictures), a pack of 2 works (Ruizumu + Mikkusufurai HaruLala), Kore Ijou Wa Yurushite, Shibaranakute Mo Yokunai, Oagari Yo, Nakiris Oishiku Itadakimasu, its sequel Nakiris Oishiku Meshiagare, a pack of 3 works (Minamino + Nagi Kan + Ran Nana) and another pack of 3 works (Jidori J-kei Choukyou Shichau Zo + Joshi Ga Muragaru PowSpo Chi Po + Reijou Shihai Mesu).
And now, the download & gallery links
Open the Complete Pictures Gallery
Or you can also use the Alternative:
Zip Mirror #1 – or – Zip Mirror #2
–
Smaller version incoming!
As of usual when ☑ the images are in high enough resolution and ☑ the archive is quite big for its number of pictures, and ☑ it offers a significant gain, and ☑ I have enough time to do it, if it may help, I'm offering you a smaller version, in which I resized the images to standard 1600 px resolution.
The zip shrank from 45 MB to 15 MB.
Personally, I prefer it for reading, and it takes less disk space.
Download links, Zip: Mirror #1 – or – Mirror #2 – or – Mirror #3