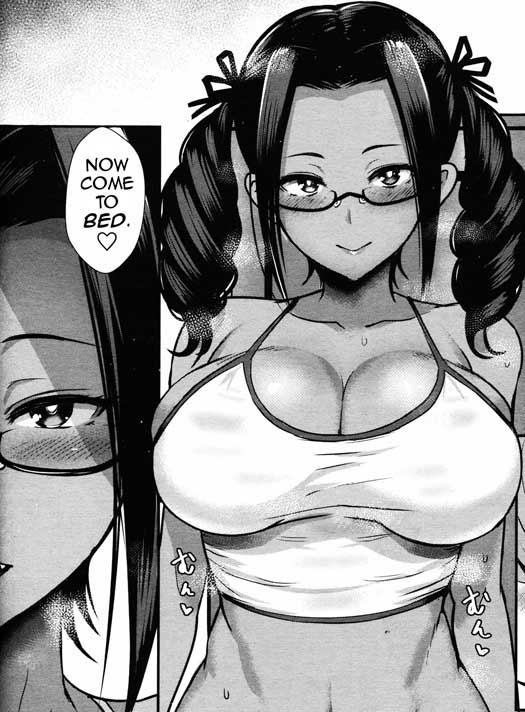 Graphically: OH SWEET JEBUS THANK YOU FOR THE HENTAI!
Scenario-wise: I'd jump through a window rather than be that girl's boyfriend, she has a very abusive and dominating personality, it's the story of a girl who toys with the feelings and dick of the boy she likes until, all dignity forfeited, he accepts to become hers for life.
The story is all but memorable to me, but the drawings, oh boy, they're amazing. Those glasses, boobs, expressions, that perfectly ready body, that dark skin, DAYUM


Thanks to Dark Knight for this release!

By the same artist, known as Nosebleed and Miyamoto Issa, I also share Keraku No Yume, Himegoto Senpai, Aru Kizoku No Shiawase ("A Certain Noble's Happiness"), LiMiM's, Lilim's+ and Lilim's Kiss, Muttsuri Chichiue Amaama Koubi, Muttsuri Chichiue Torotoro Koubi, Seicross, Kimi Wa Kanojo No Kanrika Ni Iru, Welcom, Itoshi No Onii-sama – Lilim's Gaiden (uncensored version) and Yasashii Kashima-san ("Gentle Kashima-san").
And now, the download & gallery links
Open the Complete Pictures Gallery
Download the Free Hentai Manga in a Zip file
(30 MB, 19 pictures, English)

(please, is there a chance you can use the depositfiles link ? That will generate a tiny bonus for me, thank you very much if that's possible for you !


A bonus for you, the coupon '6qdw0f5bsz8o3pmunr8t7u7fvucb1jw6' gives a 10% discount on Depositfiles 6-months and 1-years accounts.)
Or you can also use the Alternative:
Zip Mirror #1 – or – Zip Mirror #2