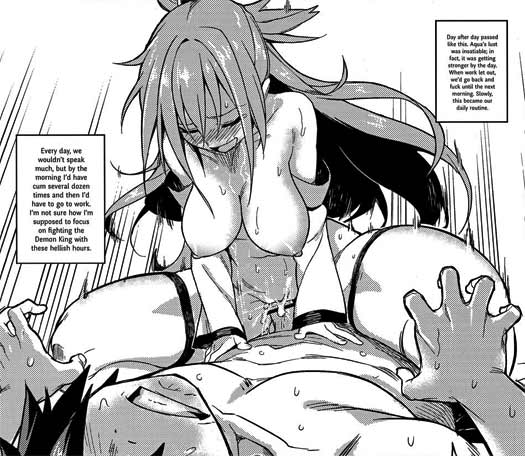 Aqua, from Kono Subarashii Sekai ni Shukufuku o becomes Kazuma's lover. And from there on, the "story" (airquotes are strongly recommended) takes an unexpected turn. Aqua becomes a slave for dick, lust took over rationality, self-mindbreaking. The girl's insatiable lust becomes such a burden for poor Kazuma (over a dozen times every single new night, again and again) that in the end he sells Aqua's prostitution service to groups of men, at least it's not his body that's taking the toll O_o
So, what? Weird story canvas, quality art? Yeah, I guess. Credits are for Nipplezits, Eno and Vilis, from Hennojin Scanlations, thank you!
By the same artist, to this day, I also share Seishori Servant In My Room and Futari Shakai.
And now, the download & gallery links
Open the Complete Pictures Gallery
Download the Free Hentai Manga in a Zip file
(42 MB, 11 pictures, English)

(please, is there a chance you can use the depositfiles link ? That will generate a tiny bonus for me, thank you very much if that's possible for you !


A bonus for you, the coupon '6qdw0f5bsz8o3pmunr8t7u7fvucb1jw6' gives a 10% discount on Depositfiles 6-months and 1-years accounts.)
Or you can also use the Alternative:
Zip Mirror #1 – or – Zip Mirror #2
–
Smaller version incoming!
As of usual when ☑ the images are in high enough resolution and ☑ the archive is quite big for its number of pictures, and ☑ it offers a significant gain, and ☑ I have enough time to do it, if it may help, I'm offering you a smaller version, in which I resized the images, here from 3000 px to standard 1600 px resolution.
The zip shrank from 42 MB to 11 MB.
Personally, I prefer it for reading, and it takes less disk space.
Download links, Zip: Mirror #1 – or – Mirror #2 – or – Mirror #3
Hello! This post is getting on years, so here's a friendly mention... If all the links are dead, you may try using
THE HENTAIRULES GIGATORRENT
Pick exclusively a precise file with a keyword search, or bulk leech like a madman, it's quick and easy