A short intro by Oliver: sequel to this, where you'll find an explanation. Short version, I like those guys' work enough

---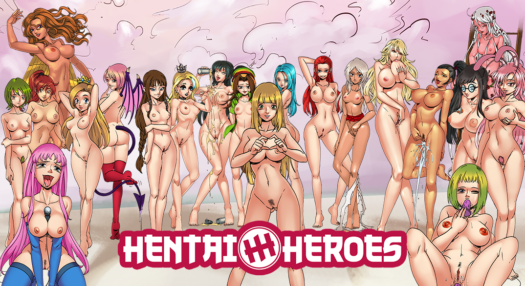 How it all started. The story behind the creation of Hentai Heroes!
One night…
There was a party. It was quite a normal one, pizzas, booze, nerds… But there was this pizza with strange mushrooms that no one wanted. At the night while most of us were dead drunk, we decided oh, what the hell! Let's try that one. That's actually the last moment we can remember. However, we remember how out of nowhere the great Hentai Goddess appeared in front of our eyes. She was surrounded by awful tentacles and perverted monsters, begging for help!
It happens that all of us saw her. Porco Rosso, Solgeku, Miike and Roman, aka the future Kinkoid Team. We wouldn't have guessed that we were going to have a game at that moment, believe me…
It was a long and fierce battle, however by using all our jutsus, bat-a-rang and our final Genkidama, we managed to save her. To show her gratitude, she agreed to grant us a wish:
"My name is Hachi, a random goddess like in every kind of story. Your passion for porn hentai sexy girls, drawings, manga, video games and all those creepy shit can be united all in one. Don't you see that, the four of you can finally fulfill your dream here and now? Are you so dumb that you need to fight tentacles to see the obvious reality? C'mon guys…! Just do it now! Get rid of your jobs, gather your dirty minds and create the best hentai game ever played that will rock the world!''
And then began the legend of Kinkoid!
At first, we were not so sure on how much parodic the game needed to be. That's why we had to make multiple tests beforehand. Over the weeks, we finally got some good ideas. Although, our time was really limited due to small resources of … everything! But hey! We did it! Below some screenshots, up to you to find the references

Note: on the first pic, the Super Saiyan hairstyle was a bit too obvious in our opinion, so we decided to change that. Second pic is the final version in the game.

Note: a manga about Ninja? Never heard of it ;p

Note: guess from which manga it is a parody of?

Note: one more hint for you ;p
However before reaching that level and having a clear idea about the game, it was a lot of struggle
A year ago we were having the typical daily jobs, with bosses on our heads, and tons of pressure. Day after day our life was nothing but an empty page: waking up, going to work, eating, working, going home, sleeping. Again and again. Our creativity was not valued in our corporate jobs and we felt so unhappy, but… Well, we had to bring food on the table, right?
Here's the truth…
I remember there was a point where I just wanted to go home and do my stuff. I wanted to write my dirty scenarios, I was dreaming about my own game. I wanted to be different.
I spent so many sleepless nights doing exactly that. And then on the next day my boss would yell at me because suddenly, I am not too active at work… Little did he know. But as people say, the world is big and salvation is everywhere! My salvation was my hentai goddess and luckily she also saved three more "crazy" guys.

We had to go a long, long way of sketching, erasing, fighting, everything that a single creator could experience while trying to reach his dream.
We used to meet every day and spend the whole day together, trying to clear our vision and finally start something. So we came up with the idea to create a parody hentai game. All we needed left, was to find a good way to add fun into the concept. That's how we thought about a Pokémon-like porn game! The only difference would be that instead of collecting monsters, you would therefore be able to collect naked manga girls so you could fuck 'em all! How cool is that?

The game concept was finally decided. And the real work started!

Making our hero started like this this:
Then came Bunny, the main girl of the harem:
I remember that the most interesting part was seeing the sketch getting colored. That was amazing for us and it really gave us more reasons to believe that we were going to have a game.
Sketch scene from World 4 aka "Ninja World"
Turning into:
We didn't have much of money, a struggle that almost each artist has to face in his own way. But we continued to gather together each day. Whole spring and half-summer.
I remember one day it was hot and…
Oh, ok! I have to stop here now

More things are coming up soon, stay tuned for part 2!
In the meantime you can always check our patreon page!
P.S.
A little extra for you : Bunny affection lvl for one of her limited edition, hope she will entertain you

Hello! This post is getting on years, so here's a friendly mention... If all the links are dead, you may try using
THE HENTAIRULES GIGATORRENT
Pick exclusively a precise file with a keyword search, or bulk leech like a madman, it's quick and easy