In this page, I'll be listing all the works by Pinvise (true mangaka name: Suzutsuki Kurara) that I share on Hentairules.
Better be honest, I'm a huge sucker for Pinvise's works, and my opinion is biased, the mangaka could release something awful and I would still find a reason to praise it

Still, so far so good, Pinvise is specialized in stories with a comedy and/or vanilla focus, blessed with FANTASTIC art. The girls have hourglass figures, perfect boobs, and amazing faces

I'm listing first the covers (mandatory warning: some covers might be missing from here, image links die sometimes), and, once you scroll down, the complete list.
–
–
–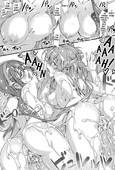 Wet Children [English, High Res and Uncensored version]
–

When The Angel's Away volume 1 [English, Uncensored version]
–

When The Angel's Away volume 1 [English, Colorized and Uncensored version]
–

When The Angel's Away Volume 2 [English]
–
–

Evolution of Morisummer [English]
–

Tennen Tenshi No XX Ressun [English, Uncensored version]
–

Tennen Tenshi No XX Ressun [English, Colorized and Uncensored version]
–
–

Momo Piyo [English, Uncensored version]
–

Irregular Contact [English]
(It's a sequel to Momo Piyo just above)
–

Pack of 2 works [English]
– Nijyuura Sen
– Pururun Cast Off
–

Pack with the 4 Sparking Vacation volumes [English]
Namely:
– Sparkling Vacation
– Sparkling Vacation @ Fes
– Sparkling Vacation @ Home
– Sparkling Vacation @ Home Plus
–