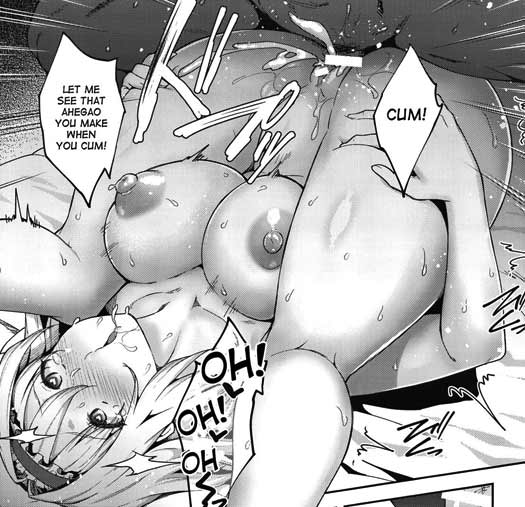 As always, with netorare stories, I wonder if the mangaka drawing this (1) is a dominant person loving to NTR others, (2) nurtures fantasms of NTRing others, (3) is a sad victim who experienced that trauma and sublimates part of it into art, or (4) simply doesn't give a fuck ("So, next, I'm drawing midget waffen SS porn? Sure.") and does what his editor thinks is going to sell


Open question, unless one of you here can enlighten us ^^
Anyhow. Here we are, with Alice, totally under the dominion of a tall, manly, heartless man. She accepts to invite a pure kind-hearted boy who had a crush on her, in order to show him how she is fucked hard by a man a hundred times more virile than him (or "than he"? I'm not too sure, here… anyone can help?).
The poor sod has his pride and soul crushed, Alice has her wet pussy pounded, all goes as planned. Graphically, it's very good, story wise, all due warnings were issued.
Thanks to Desudesu for this release

By the same artist, I also share Linaria, Te To Te O Toreba, Mariho, Boku No Oshishou-sama, Himono Elf Kozukuri O Suru + After, Chaldea Life 1, Chaldea Life II and Kirisame Marisa Wa Makerarenai.
And now, the download & gallery links
Open the Complete Pictures Gallery
Download the Free Hentai Manga in a Zip file
(25 MB, 24 pictures, English)

(please, is there a chance you can use the depositfiles link ? That will generate a tiny bonus for me, thank you very much if that's possible for you !


A bonus for you, the coupon '6qdw0f5bsz8o3pmunr8t7u7fvucb1jw6' gives a 10% discount on Depositfiles 6-months and 1-years accounts.)
Or you can also use the Alternative:
Zip Mirror #1 – or – Zip Mirror #2