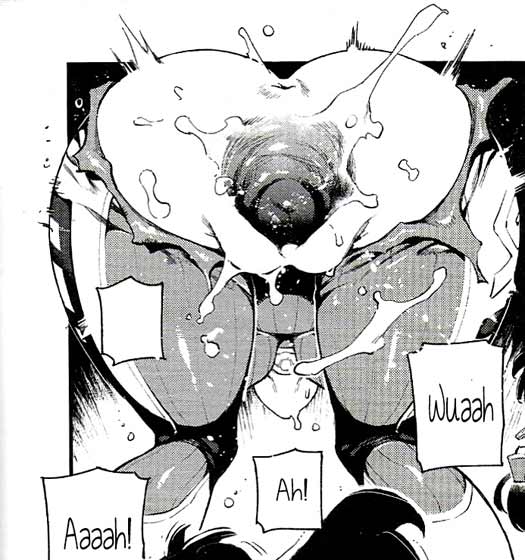 Frankly, I was much more impressed by the previous volume, Overtime volume 1. This new release suffers from drawings that aren't as good (in my subjective opinion, etc), the scans are also more "damaged", and I feel the comedy is lacking.
It's still good, mind you. But I can't call it awesome, not like the volume 1, there's the idea

Anyway, if you care for a good few laughs, and for maximum badass pounding inside a D.VA that will welcome any fucky situation initiated by a Sombra gradually losing all hopes, go for it ^_^ There's a policewoman D.VA VS Roadhog scene in the end, featuring the heaviest anal in an extreeeeemely long time


This has been released by Atomicpuppy, thank you!

By the same artist… … oh shit, what a mess, hang in there. The Bear Hand circle was first called Turtle.Fish.Paint. Its two members are Hirame, also called Fishine, and Ireading, also called Abi Kamesennin, also called An zheng ¯\_(ツ)_/¯
So, by the Bear Hand circle/artists, up till now, I also share Chaldea Mania – Kuro And Shiro, Chaldea Mania – Oni & Ma, NieR _ 2BR18, JINX! Come On, Shoot Faster, SoOO Sensou, Trial of The Falsely Accused, Dounen Hakai ~ Ookina Akazukin & Chiisaki Ookami, Tennen Delivery ("Airhead Delivery) and the equally buttastic Overtime volume 1.
And now, the download & gallery links
Open the Complete Pictures Gallery
Download the Free Hentai Manga in a Zip file
(26 MB, 26 pictures, English)

(please, is there a chance you can use the depositfiles link ? That will generate a tiny bonus for me, thank you very much if that's possible for you !


A bonus for you, the coupon '6qdw0f5bsz8o3pmunr8t7u7fvucb1jw6' gives a 10% discount on Depositfiles 6-months and 1-years accounts.)
Or you can also use the Alternative:
Zip Mirror #1 – or – Zip Mirror #2