In this page, I'll be listing all the works by Peachpulsar that I share on Hentairules. Some precisions, Peachpulsar (発行サークル) is the circle name (*cough*), while the true name of the mangaka is Mira (発行者). But I've been using the name Peachpulsar for four years now, so please forgive me if I stick to old habits

Peachpulsar creates some of the best yuri I have read to this day, if you need quality lesbian reading, try Peachpulsar.
To be frank, I am negatively prejudiced against 95% of the production of yuri hentai mangas, because they focus so much on feelings (and how you understand others and how others understand you, blah, blah, blah) that in the end there are almost zero pages left for sex, and far too frequently the drawings are mediocre at best.
Me, when I read yuri, I also want boobs! Pussies spread apart! Tongue play! Moaning! Rubbing! Detailed wet genitalia! Ideally, powerful penetrations with dildos!
Well, everything save the penetrations, Peachpulsar provides

With, in addition, quality scenarii!
His works are rich with comedy, positive human interactions, quality art, very hot bodies with a unique rich art style

I'm listing first the covers (mandatory warning: some covers might be missing from here, image links die sometimes), and, once you scroll down, the complete list.
–

Mousou Bukatsu Shoujo Volumes 1-2 [English, 76 pictures]
–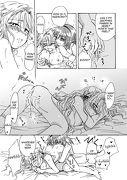 Cutie Beast Complete Edition [English, 150 pictures]
–

Moroshita And Arai's Romance [English]
–

Oppai-chan To Chippai-chan Ga Irekawaru Hanashi [English]
–

OL-san Ga Oppai Dake De Icchau Manga [English]
–
–

Himitsu No Yuri Esthe ("Secret Yuri Salon") [English]
–

Pack of 2 works [English]
– Himitsu No Yuri Esthe Friend Course (direct sequel to Himitsu No Yuri Esthe)
– Konya Wa Watashi Ga (sequel to OL-san Ga Oppai Dake De Icchau Manga and direct sequel to Nurunuru Shitaino)
–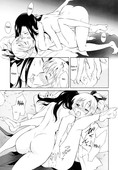 Aiiro Ningyo ("Indigo Mermaids") [English, 107 pictures]
–

Earth Girls [English, 136 pictures]
–

Earth Girls Tumugi [English, 130 pictures]
–

Earth Girls Kazitu Zenpen [English, 135 pictures]
–

Earth Girls Kazitu Kouhen [English, 148 pictures]
–

Hime-sama To Dorei-chan [English]
–

Elf – Tsuki No Mahou ("Elf – Magic Of The Moon") [English]
–
–

Dryad No Hanayome-tachi ("The Dryad's Bride") [English]
–

The Sea, You, And The Sun [English, 133 pictures]
–

Shadow Love [English, 69 pictures]
–

Shiteru No Misete ("Show Me How You Do It") [English]
–

Goshujin-sama Daisuki [English], by Peachpulsar
–

Yurufuwa Joshi Ni Kiwotsukete [English]
("Be Careful Around The Nice Ones")
–
–

Peachpulsar/Mira wrote "Punishment Night Club", one of the stories in this yuri compilation:
Lady X Lady [English, 103 pictures]
Hello! This post is getting on years, so here's a friendly mention... If all the links are dead, you may try using
THE HENTAIRULES GIGATORRENT
Pick exclusively a precise file with a keyword search, or bulk leech like a madman, it's quick and easy