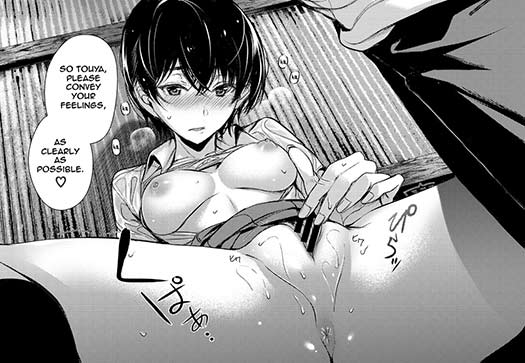 Ah, well, that was adorable. This vanilla hentai share, full of warm feelings, is centered around two youngsters that were afraid of making the first step, cowardly prefering to enjoy being close friends, not daring to risk it all and express further interest. It's probably because we've all been there that it's a touching read, I suppose, how not feel joy for the two characters

Graphically, I don't know… it's not awesome, true, but it's still fairly good (plus: wet shirt shots!). I hope you may enjoy it, me, the WAFF made me feel so good =)
Thanks to Sydin for this release!

By the same artist, to this day, I also share Henai Heroism (198 pictures), Homestay-chu No Doitsu Musume Ga Issho Ni Furo Ni Haitte Kuru Wake, Sonna Flag Wa Tateta Oboe Wa Nai, Nigakute Amakute Tsurai Toge, Katamichi Catchball, Hitori To Futari To Sakamichi O, Tender Equation, a pack of 2 works (Sanae-shiki Miko No Oshigoto 1 + Exclusive Maid Sakuya's XX) and Sanae-shiki Miko No Oshigoto 2.
And now, the download & gallery links
Open the Complete Pictures Gallery
Or you can also use the Alternative:
Zip Mirror #1 – or – Zip Mirror #2