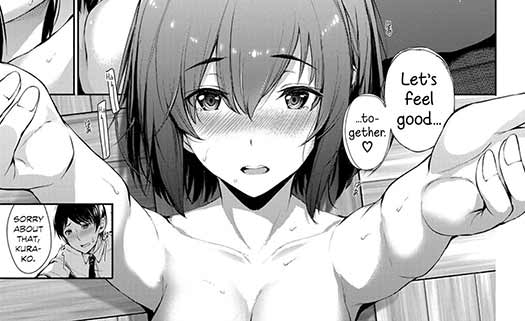 Dude, a confession and a wet pussy isn't a no-foreplay permit. But why am I rambling, this is hentai ┐( ̄ヮ ̄)┌
In this share, a higschool boy finds his female friend shares his interest in sexual things, even though he naively imagined it would be his kink only. I'll spare you the pointless details, it's decent sex

The drawings aren't the best Gentsuki has delivered, but it's still original, I feel… Hopefully a few of you won't have read it yet, huhu.
Thanks to Freudia, Amalthea, Cadenza, HayateK4L and Psychorhythm@MSD, from Team Koinaka!

By the same artist, to this day, I also share Henai Heroism (198 pictures), Homestay-chu No Doitsu Musume Ga Issho Ni Furo Ni Haitte Kuru Wake, Finder, Nigakute Amakute Tsurai Toge, Katamichi Catchball, Hitori To Futari To Sakamichi O, Tender Equation, a pack of 2 works (Sanae-shiki Miko No Oshigoto 1 + Exclusive Maid Sakuya's XX) and Sanae-shiki Miko No Oshigoto 2.
And now, the download & gallery links
Open the Complete Pictures Gallery
Or you can also use the Alternative:
Zip Mirror #1 – or – Zip Mirror #2
-
Hey everyone

You're reading a post I prepared, and scheduled, in advance. At the present time, I'm somewhere in the middle of France with my wife and kids, on holidays. The landscapes of Auvergne, entirely man-made and yet still so superb, under an immense sky, fifteen minutes on the road and you're in the middle of nowhere with nobody around except the occasional fellow hiker... I can't get enough of it.
I hope the post isn't broken or anything, but if I screwed up for some reason... what can I do, deal with it


Take care while I'm away, enjoy the beautiful days of July, and meet you back on Monday the 30th! :-)