This is the page in which I will list all the works that I share by the mangaka Kuro No Miki, also known as Kuronomiki, from the circle Nekokaburi.
When you read something by Kuro No Miki, you can expect meaty female bodies, faces expressing intense lust and ecstasy, and on top of all, crude, intense, hardcore action, serving simple stories without drama or complications. Never a disappointment in that regard

I'm listing first the covers (mandatory warning: some covers might be missing from here, image links die sometimes), and, once you scroll down, the complete list.
–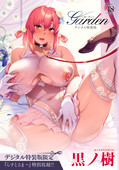 Garden [English, 266 pictures]
–

Zeen No Seijo ("Zeyen Priestess") [English]
–

Between The Bookshelves [English]
–

Thawing Love + Thawing Love Another Point [English]
–
–
(This one has a sequel starting page 195 of Garden, linked above.)
–
–
–

Gran Nyuu Fantasy Magisa Hen – Granboob Fantasy – Part Magisa [English]
–
–

Big Sister's Heart And Spring Sky [English]
–

2 Balls Into Marriage [English]
–

Pack of 2 works [English]
– Break The Complex
– Sleeping Beauty
–

Gran Nyuu Fantasy Side G Shoujo D [English]
–

Lust Order ~ Beast-kei Marshmallow Kouhai [English]
–