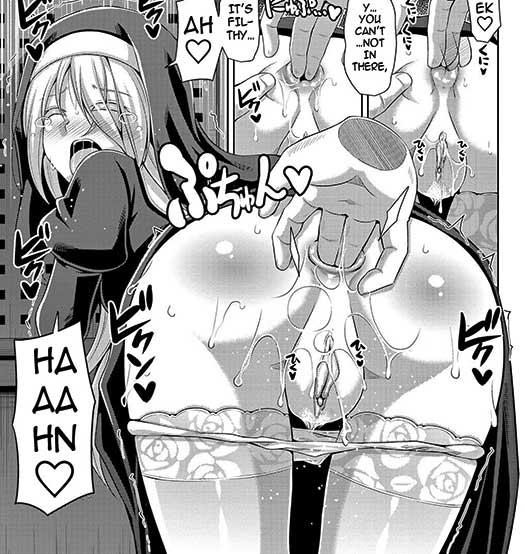 With the help of a female accomplice, a nurse and a skilled hypnotist, the "jack of all trades" employee of a prestigious female highschool superfucks every girl and makes himself a perfect harem. In short.
The story is based on two pillars, hypnotism (leading to "sorta" consensual sex, but let us not fret), and rape (because some of the girls are bad girls and "deserve", airquoting, a bit of breaking before the hypnotism kicks in.) Plenty of girls join the harem, lots of students of course, plus the principal, the school's nurse (she's the accomplice, her fetish is to be raped hard and watch others go through the same thing), and two nuns.
That's relatively shallow as a story, true. I expected a deeper plot as in the mangaka's relatively similar Yaruki Switch, with plot twists or the like, but eventually it's just steady unhindered harem building all along. But the art. THE ART IS FUCKING AWESOME!!


Full uncensored. Explicit. Well done all along. Strongly reminding me of Shunjou Shuusuke's style. Just… wow, this is the best hardcore tank in a long while!!


Thanks a lot to Dark Knight for this release

By the same artist, to this day, I also share Yaruki Switch (198 pictures), Gohoushi Otome and GyaruImo.
And now, the download & gallery links
Open the Complete Pictures Gallery
Download the Free Hentai Manga in a Zip file
(107 MB, 201 pictures, English)

(please, is there a chance you can use the depositfiles link ? That will generate a tiny bonus for me, thank you very much if that's possible for you !


A bonus for you, the coupon '6qdw0f5bsz8o3pmunr8t7u7fvucb1jw6' gives a 10% discount on Depositfiles 6-months and 1-years accounts.)
Or you can also use the Alternative:
Zip Mirror #1 – or – Zip Mirror #2