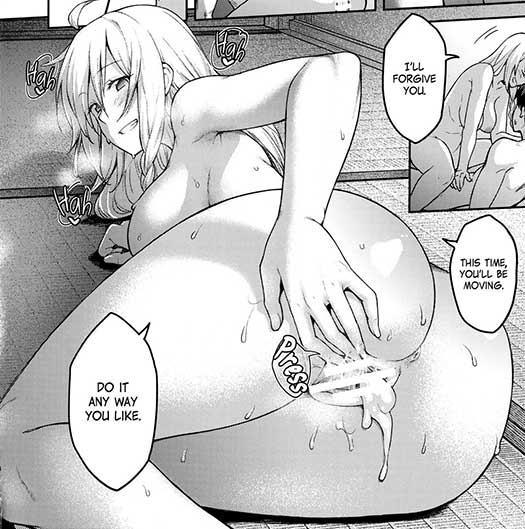 The scenario doesn't matter much (Marisa deflowering a boy who was too insistant around her friend Reimu, but the helpful plan backfires), it's all about the carefree, easygoing, smiling slice of life atmosphere


And, simply, I'm glad I can share this doujinshi because the drawings are bloody SPLENDID, Marisa really shines, there's not too much censorship, no matter how you look at it this is top tier hentai we've got here, enjoy! ^_^
The hentai doujinshi has been released by Brandmahr, Pr1de and Red_Piotrus, from the EHCove, thank you very much!
By the same artist, I also share Linaria, Alice Ga Suki Nano Wa, Chaldea Life 1, Chaldea Life II and Mariho.
Side note: the end-volume credits picture is excellent, lol, please do NOT miss it!

And now, the download & gallery links
Open the Complete Pictures Gallery
Download the Free Hentai Manga in a Zip file
(32 MB, 27 pictures, English)

(please, is there a chance you can use the depositfiles link ? That will generate a tiny bonus for me, thank you very much if that's possible for you !


A bonus for you, the coupon '6qdw0f5bsz8o3pmunr8t7u7fvucb1jw6' gives a 10% discount on Depositfiles 6-months and 1-years accounts.)
Or you can also use the Alternative:
Zip Mirror #1 – or – Zip Mirror #2