On this page, I am listing all the works by Oohira Sunset (main mangaka, if not only one, of the Mata Ashita circle).
Basically, Oohira Sunset implies you'll be exposed to meaty (or even plump) hot young women loving life and loving getting dick, in scenarii based on mutual liking, frequently going as far as vanilla, when the love is mutual and it's all cute and touching. In itself, this is simple, right? But why would it be a problem, that makes for awesome and highly enjoyable hentai to read

I'm listing first the covers (mandatory warning: some covers might be missing from here, image links die sometimes), and, once you scroll down, the complete list.
---

Nyuukan Squeeze ("Bust Feels Squeeze") [English, 169 pictures]
–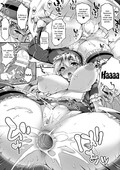 Pururun-Pulling [English, 178 pictures]
–

Pack of 2 works [English]
– KashimAnal
– Natsukaze Wa Hitohada De
–
–
–

Boudica-san Shiyo ("Boudica-san, Let's Do It") [English]
–

Pack of 3 works [English]
– Atsu Atsu Anira
– Boudica-san Mi (a sequel to Boudica-san Ni, linked above)
– Boudica-san To (a prequel to Boudican-san Ni, linked above)
–

Ichijiku Ga Jukusu Maeni ("Before The Figs Ripen") [English]
–
–
–

Sakusaku Meat Pie [English, 182 pictures]
–

Kabeanatsuki Juukyo E Youkoso, chapters 1, 2 and Kouhen 304 [English]
–

Kabeana Tsuki Juukyo E Youkoso 301 Goushitsu. Majo Serina No Baai 1-2 [English]
("Welcome To The Residence With A Glory Hole. Room 301 Witch Celina's Case 1-2")
–

Anenie Life – Boku No Onanie Wa Ane No Mono [English]
("Big Sis Masturbation Life – My Masturbation Right Belongs To My Older Step Sister")