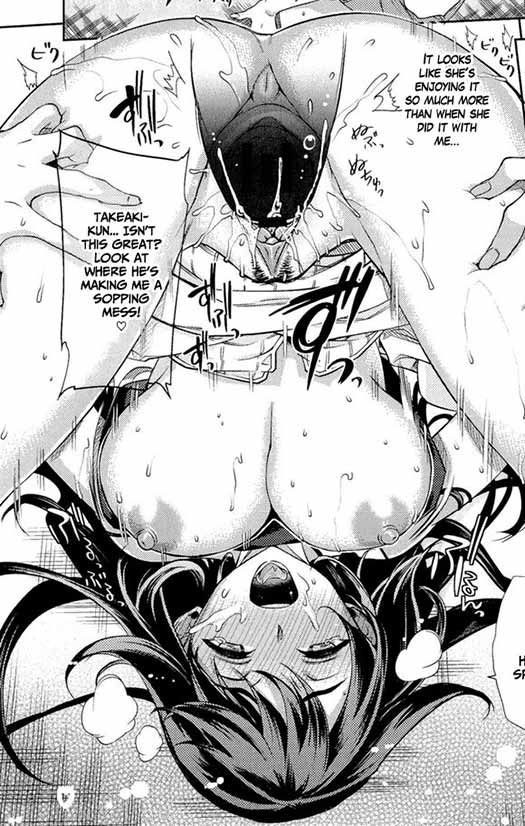 Sometimes I can understand how the male character is supposed to feel in an action movie, when he smiles as he loads his shotgun. He knows he's taken the wrong path at some point in his life, but what's coming next will make it totally worth it.
Long story short, this partly stereotypical share is about a too naive young man who didn't realize his ideal girl probably never existed, and didn't notice either she had been tainted by other men before she fell all too conveniently back into his lap. She'll betray him with a smile and it will be hard to tell how intentional, how "evil" it even was.
Remember, friends, if you rage, you lose, it's a game between you and the mangaka

By the same artist, whose name I've seen written as Ohkami Ryosuke and Ookami Ryousuke, I also share the great Chichimonogatari (199 pictures, it's a sweet read!), Sexual Time (206 pictures), Nemuri No Aizu, Ayutamu-Sensei, Hazukashii Chibusa ("Embarrassed Tits", 230 pictures), Love Hero 21, Love Hero 22, TS Ryuugaku-Ki chapter 1, TS Ryuugaku-ki chapter 5 and Kano Kare Konpurekksu.
It's been released by White Symphony and commissioned by an Anonymous, thank you!
And now, the download & gallery links
Open the Complete Pictures Gallery
Or you can also use the Alternative:
Zip Mirror #1 – or – Zip Mirror #2
–
And now, something totally unrelated, I remembered discussions about homemaking instruments in the comments of past shares on Hentairules, and, oh, for no particular reason, I thought "hey, THAT drill mesh is awesome and would be perfect for lots of stuff".