This will be simpler for both you and I, in this page, I'm listing all my shares by Wata 120% (a bit more precisely, the mangaka is called Menyoujan, and Wata 120 Percent is the hentai circle name).
In one sentence: Wata 120% is a specialist of absofuckingly GORGEOUS full-colour art doujinshi. The girls are teens with fine bodies (I'm more a meaty or MILF lover, but teens drawn like that are on god-level, definitely), and even (yep: even) better than that, I fell in awe eveyr time I saw their horny lustful faces with entrancing expressions. Damn, they look amazing.
Honest mention: I deliberately shy away from sharing some of the mangaka's volumes because they're beyond my limit for underage tolerance (it's borderline but I accept most of his releases, however, for some of them, well, sorry, not on Hentairules: my blog, my POV), I'll let you google the Azus@ttack term as a starting basis

I'm listing first the covers (mandatory warning: some covers might be missing from here, image links die sometimes), and, once you scroll down, the complete list.
—

Oni Rem no Ero Hon [English, Uncensored]
–

Shining Erotic Book [English, Uncensored]
–

TastYui 1 [English, Uncensored]
–

Tast Yui 2 [English, Uncensored]
–

Mio On Duty [English, Uncensored]
–
–

Pistonight [English, Uncensored]
–

Is It A Dream To Have Sex With Girls On My Birthday [English, Uncensored]
–

Char No Ero Hon [English, Uncensored]
–

She Non-Stop [English, Uncensored]
–

Sex Again Please [English, Uncensored]
–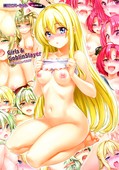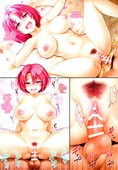 Girls & GoblinSlayer [English, Full color]
–