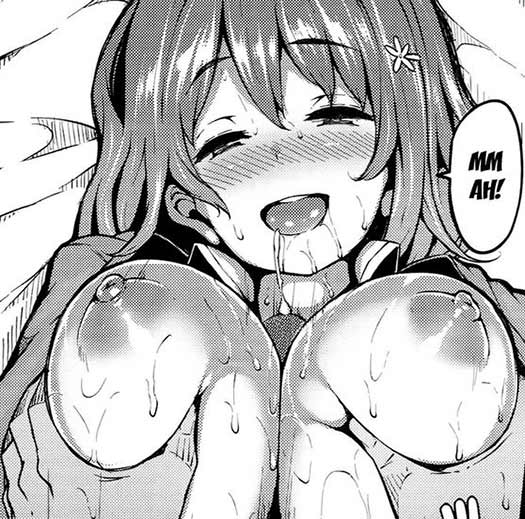 We're in dark territories this time: Kanako, an idol from the usual Idolm@ster Cinderella Girls agency, doesn't realize the "energy drinks" her producer encourages her to drink are spiked with some kind of drug. Partly acting like coke: she feels full of life, full of energy, partly like a magical hentai drug: it makes her super horny.
Long story short, yada, yada, yada, p-kun eventually fucks her hard and proceeds to turning her into a broken junkie.
It's like you could watch her neurons committing mass suicide by the dozen of billions with each passing page, we're talking mindbreak + ahegao. But if you manage to put that aside (or love it), the girl was making truly impressive horny faces all along, and the sex looked very hot in this particularly stifling atmosphere.
Thanks to Doujin-Moe for this one!
There's an even worse similar volume by the same mangaka, however, that other one, I don't plan to share it on hentairules, it disgusted me when I read it. The name is "Maple Poison", in case you're interested, I'll let you search for it on the internet, it's easy to find. However, honest warning, this is like the present scenario, only many times worse.
By the same artist, called Shiokonbu or (it's his circle) Laminaria, to this day, I also share Bergamo, Let, Mitigation – Wars End, Koi No Kazamuki, Hiina Asobi, Ikoku Na Retro, Étude, Kimi-tachii Senchou To Off-pako Shitain Desu Kaa (uncensored), Lily Ties, Nikushokukei Joou, Unhappy Ladies, Acid Lover and Koi Maguwai.
And now, the download & gallery links
Open the Complete Pictures Gallery
Or you can also use the Alternative:
Zip Mirror #1 – or – Zip Mirror #2 – or – Zip Mirror #3