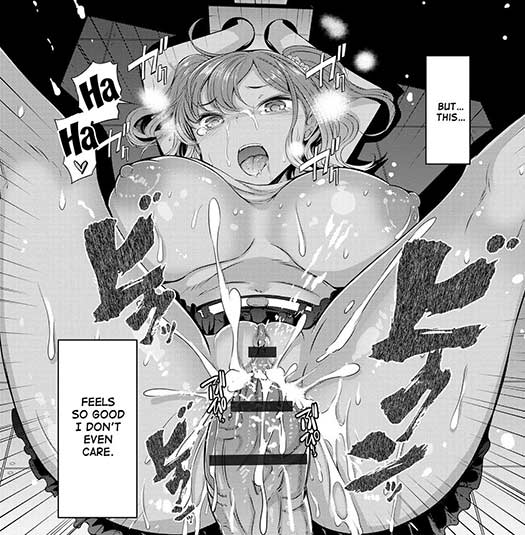 I got more mixed feelings from this one than from La Paix Corpo No Yuuutsu, also by Eba, also shared today. But I still wasn't struck with awe ¯\_(ツ)_/¯
The manga is made of two parts, one third is an arc in which it pays off to be a huge jerk towards your sister and treat her like a hole, she will love you back.
And the second arc taking up most of the manga is the actual "Sisters Island" story, in which four sisters find themselves trapped on a secluded island with the brother they used to bully, who will rape and mindbreak them.
So much for the storyline, it's a matter of tastes after all, but WHY must the male character look so fucking ugly?!? O_o It's a pity, as the girls are real lookers, with lots of meat on them, huge breasts and cute faces, even the censorship remains reasonable, thin grey bars only! T___T
Anyway. Thanks to Dynellen and Doujin-Moe!

By the same artist, I also share Datsu Imouto Sengen ("Sister Removal Declaration", 196 pictures), Forbidden Fruit ~ Kindan no Kajitsu (180 pictures), Noryoku Gakuen Gekokujo ~ Boku Ga Gakuen O Seisu Made (236 pictures), Imouto Kansatsu Nikki (210 pictures), Hitozuma Ga Ero Sugite Shigoto Ni Naranai! (194 pictures), La Paix Corpo No Yuuutsu (201 pages) and Aspiring Sex Slave (187 pictures)
And now, the download & gallery links
Open the Complete Pictures Gallery
Or you can also use the Alternative:
Zip Mirror #1 – or – Zip Mirror #2 – or – Zip Mirror #3
–
Recompressed version incoming!
As of usual when ☑ the archive is quite big for its number of pictures, ☑ it offers a significant gain, ☑ the images are not in damn too high resolution, and ☑ I have enough time to do it, if it may help, I'm offering you a smaller version, in which I recompressed the images.
There should be no loss of quality for the naked eye, only a loss in megabytes.
The zip shrank from 194 MB to 84 MB.
Download links, Zip: Mirror #1 – or – Mirror #2 – or – Mirror #3 – or – Mirror #4