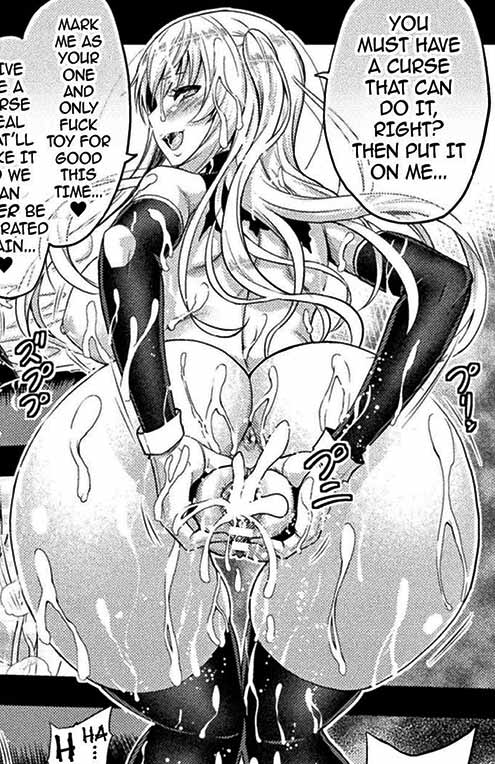 That might have been the most detailed, dedicated hentai manga I've read about female mindbreak and orcs. The entire manga revolves around a female knight, with a strong and righteous personality, and the path of domination, corruption, mind destroying, mind breaking path she had to take, under the perverted guidance of a mage orc. All the ingredients are here, netorare for the human male loving her and who thought he and her had a chance at redemption, the woman going from blackmail to mindbreak to finally getting her free will back and choosing the orc…
I can't say I loved it, but the work and care given by the mangaka deserves praise. Probably, if you've got a fantasm for utterly dominating someone, crushing her/his hopes and establishing kingdom over her/his will, that might be a manga you will love greatly.
Graphically, this was very good. Only rare views of the ugly faces of the orcs, hardly noticeable white censorship bars, intense action (almost exclusively vaginal sex). Also, the obligatory weird ahegaos and shit, once again, I can't be expected to love everything, can I

The manga was scanlated by Darknight, thanks a lot!

In case you wonder, I shared the chapters 1-3 of this manga a year ago. The present share replaces it.
Also, I must be going senile because I had completely fucking forgotten about it before I searched my Hentairules to see if I had other shares by Yamada Gogogo to which I should give links

And now, the download & gallery links
Open the Complete Pictures Gallery
Or you can also use the Alternative:
Zip Mirror #1 – or – Zip Mirror #2 – or – Zip Mirror #3
–
Smaller version incoming!
As of usual when ☑ the images are in high enough resolution and ☑ the archive is quite big for its number of pictures, and ☑ it offers a significant gain, and ☑ I have enough time to do it, if it may help, I'm offering you a smaller version, in which I resized the images, here from 2400 px to lower-standard 1600 px resolution.
The zip shrank from 166 MB to 99 MB.
Personally, I prefer it for reading, and it takes less disk space.
Download links, Zip: Mirror #1 – or – Mirror #2 – or – Mirror #3 – or – Mirror #4