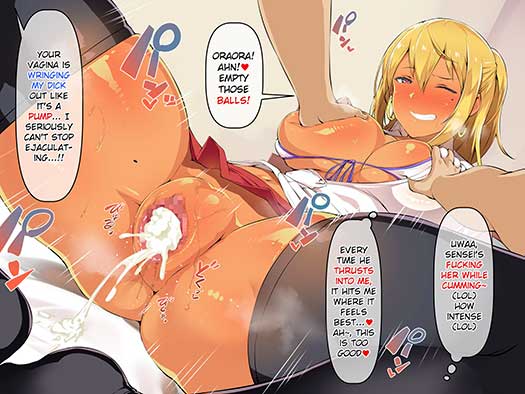 A teacher finds two of his female students wandering in the streets, he confronts her, they forcibly invite themselves at his home, and the rest is exactly what you'd predict (unless you're a sick fuck

). More scenes follow now they're fuckbuddies, etcetera.
No complications, happy go lucky sex, drawn with Ueno Denim's excellent style (very meaty bodies, boobs bursting out of bras, cheeky smiles) but with the gross mosaics censorship of CG sets, I think it's worth it ^^
Arkngthand is behind this release, many thanks!

By the same artist, known as Uno Denim, Selvage Fisheries and Serubitch Suisan, I also share Boku No Seishori Gakari Wa Ijimekko Gal (221 pictures), GuP Hside + GuP Hside+, S&N, FHO, Ride On Bitch, Get O~Ba~, ATG, My First Bitch Girl, Nuku Nuku Gyarux, Backside – She has two faces, 3230t Sukebe ("3230 Tons Of Slut", what an AWESOME title!!

), TKO, Kagirinaku Toumei Ni Chikai B.B, Abazure Summer, Miss Bitch (a different version of Abazure Summer) and Bitch Frag.
And now, the download & gallery links
Open the Complete Pictures Gallery
Or you can also use the Alternative:
Zip Mirror #1 – or – Zip Mirror #2 – or – Zip Mirror #3
–
Recompressed version incoming!
As of usual when ☑ the archive is quite big for its number of pictures, ☑ it offers a significant gain, ☑ the images are not in damn too high resolution, and ☑ I have enough time to do it, if it may help, I'm offering you a smaller version, in which I recompressed the images.
There should be no loss of quality for the naked eye, only a loss in megabytes.
The zip shrank from 113 MB to 40 MB.
Download links, Zip: Mirror #1 – or – Mirror #2 – or – Mirror #3 – or – Mirror #4